New Exhibition at Peter Scott Gallery - In Loving Memory
04/05/2002 11:49:42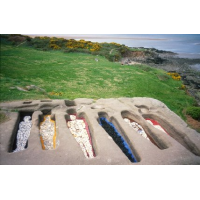 The local area and its rich history will be celebrated through a fascinating exhibition at the Peter Scott Gallery.
Local artist Andrea Gregson will exhibit sculpture and installation produced as part of Year of the Artist, along with exciting new works created in response to the historic site of St Patrick's Chapel in the coastal village of Heysham, Lancashire. St Patrick's Chapel is an 8th century Christian ruin in an area rich with historical remnants; Mesolithic remains, Celtic gravestones, Druid stones, and mysterious Angle graves cut out of the solid rock of the headland, can all be found in its environs.
Andrea Gregson's Year of the Artist residency involved an intensive period of research, using local records, old maps of the area and information gained from local people, and her work touches upon aspects of archaeology, genealogy, religion and geology. Included in this unique exhibition are a series of clay casting of the rock-cut graves at Heysham, which allow us to see the markings left by the primitive tools used to make them almost 1300 years ago.
To celebrate Local History Week (4-12 May) Andrea will be giving a talk and slide show about her exhibition, on Monday 6 May at 6.30pm in the Peter Scott Gallery, admission is free and all are welcome welcome.