Expert help at the Tourism Centre
10/11/2006 09:40:59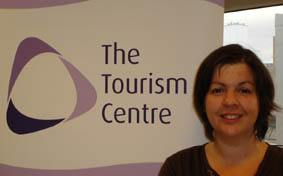 Donna Adler-Connor
Tourism and leisure businesses in the North-West are being offered expert advice with a new appointment at Lancaster University's Tourism Centre based in the Geography Department.

Donna Adler-Connor's role is to advise small businesses on how to promote themselves based on her extensive experience in the tourism sector. She is keen to make a difference.

"There are 100s of bed-and-breakfasts in Windermere alone for example, so why would a customer choose one above the other? It's crucial to stand out, know who your market is and how to capture their attention. That's where I can help."

After gaining a degree in tourism, Donna worked for Windermere Tourist Information Centre and the Cumbria Tourist Board before becoming an AA Inspector.

"My job was to go round inspecting B&Bs so I dealt with a lot of businesses in a very competitive market. Plenty of establishments are clean, comfortable and well appointed, but when comparing literature, these terms do not necessarily attract new customers. Image and design are equally important."

She then moved onto the rural transport project "Carnforth Connect" and was then in charge of Visitor Services at Wyre Borough Council before joining the Tourism Centre as project co-ordinator.

"My role here is to offer personalised support to businesses by taking a detailed look at their promotional materials. I will also be running workshops tailor-made for the sector."

Donna has first-hand experience as a small business-owner as she and her husband run their own restaurant in Carnforth.

"I know how hard it is because you're trying to do everything; waitress, accountant, designer and receptionist.It's easy to put off things which should be a priority like keeping promotional literature up-to-date.It's also easy to slip into a rut if you do the same job year after year. I can offer a fresh perspective. You can't stand still."

Tara McLaughlin of the Tourism Centre said she was thrilled with Donna's appointment.


"It's fantastic to have someone with Donna's experience and talents on board. It means that we can address a need in the tourism sector. One of the main ways that businesses communicate with their customers is through advertising and marketing, so getting that right is crucial."

Donna Adler-Connor can be contacted on 01524 594947
d.adler-connor@lancaster.ac.uk