Carbon Competition Winners Get £600
03/13/2009 11:50:45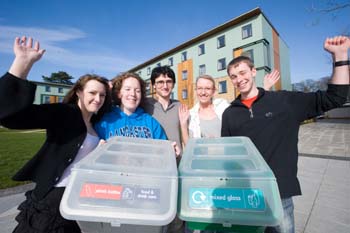 The winners from House 91 of County College (Primrose)
A pioneering competition to encourage students at Lancaster University to cut back on energy and utility usage has been so successful that it will now be run every term. The competition involves the new Eco-Residences at Grizedale and County Colleges where students in individual townhouses competed to cut their carbon footprint to the minimum.
The winners from House 91 of County College (Primrose) were so keen to cut back that they even removed the TV aerial. The 12 residents will now share the £600 prize money for cutting their emissions this term to 1,652 kg of carbon dioxide.
First year student Sara Kennington said: "We made a lot of effort in the last few days because we were down to a kilo of CO2 difference between us and the next house. We left Post It notes lying around and discouraged the use of game consoles. It's great that the University is getting involved in this and it's good at this age to get into good habits."
Fellow resident in Primrose, Jonathan Holland, said: "Every little helps and it's a big impact on your pocket just by turning things off when they're not in use."
Students from House 110 (Brathay) at Grizedale College also won £600 after a carbon footprint of 1,830 kgs.
Second prizes of £300 went to House 86, County (Ulex), and House 107, Grizedale (Sawrey), while third prizes of £300 went to House 94, County (Mallow), and House 123, Grizedale (Newby).
The fourth, fifth and sixth winners won £200 per townhouse, although the repeat of the competition every term means that in future there will be only first, second and third prizes.
The competition was run by GreenLancaster, formed from a partnership between LUSU, Estate Management and property provider UPP. Utility data from each townhouse was sent to the GreenLancaster website where residents could view their carbon footprint and check who was winning.
Environment and Sustainability Manager Jon Mills said: "The carbon contest has energised students who've made a real effort to switch off lights and reduce shower use. It makes a difference and they've done fantastically well. The incentive of the prize money has really got students thinking about how to cut their carbon footprint and we hope it's a lesson they will take away with them. The success of the content means we will be repeating it every term."
The pioneering Grizedale and County Eco-Residences have won a BREEAM award for their green features. This includes 70per cent heat recovery ventilation, sustainably sourced timber and lighting activated by movement sensors. The Eco-Residences have also won a 'Secured by Design' award for their crime prevention features including overlooked pathways and secure windows and doors.