Rivers and the British Landscape
09/02/2005 11:58:03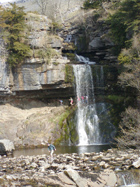 Ingleton Falls
Six Lancaster University Geographers have written an innovative book about the way in which rivers have made their mark on the British landscape.
Sue Owen, Colin Pooley, Andy Folkard, Chris Park, Gordon Clark and Nigel Watson wrote the book 'Rivers and the British Landscape' following a two year project co-ordinated by Professor Colin Pooley and funded by Mr Tony Wilkinson.
The book, published by Carnegie Publishing, explores the physical characteristics of rivers, and looks at how they have had a powerful impact on many aspects of our lives from energy and transport to literature and art. It is the only book that provides an integrated approach to British rivers – combining physical, social, economic and cultural aspects of rivers – and it provides a readable and informative perspective on one of the most visible and important aspects of the British Landscape. The book is extensively illustrated with colour plates and draws examples from all parts of Britain.
The volume was launched at the National Water Sports Centre at Holme Pierrepont near Nottingham on Tuesday, 23rd August and is available in bookshops from Friday, 26th August.