Peter Scott Gallery - ALAN DAVIE
04/22/2004 09:18:27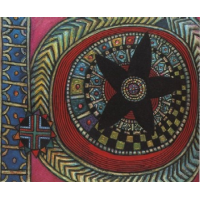 An exhibition of recent paintings by Alan Davie will be on show at the Peter Scott Gallery from 26 April until 2 June 2004.
Davie is one of the most highly regarded abstract painters of his generation. Born in Grangemouth in Scotland in 1920, he studied at Edinburgh College of Art from 1937 until 1940, and had his first solo exhibition in 1950 at Gimpel Fils Gallery, London.
Davie's work is influenced by his interest in primitive art, mythology and mysticism and his love of improvised jazz. His interest in the Tao Zen tradition has enabled him to build up his own symbolic pictorial language through his work, which includes wheels, stars, snakes and crosses. Davie has said of his artistic practice: 'Images are not made as art objects but as channels of communion with the divine'.
Davie has exhibited widely; his recent shows include Gimpel Fils Gallery and James Hyman Fine Art, London (2003), COBRA Museum, Amstelveen (2001), The Scottish National Gallery of Modern Art, Edinburgh (1997), The Barbican Art Gallery, London (1993). His work can be found in a number of international public collections including Tate Modern, The Scottish National Gallery of Modern Art, the Peggy Guggenheim Collection, Venice, Museum of Modern Art, New York and Stedelijk Museum, Amsterdam.
This exhibition brings together large scale and smaller intimate works produced during the last five years, and has been organised in conjunction with Gimpel Fils Gallery and James Hyman Fine Art in London. Many of the paintings on display will be available for sale.
The Peter Scott Gallery is open during exhibitions Mon – Fri 11am-4pm and late Thurs 6-8.30pm. Admission is free and all are welcome.