Hackers beware!
07/19/2006 16:17:06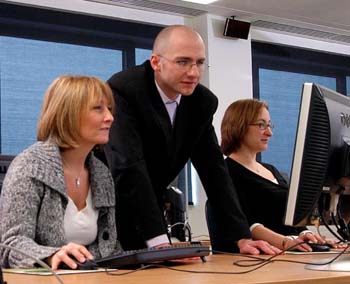 advanced IT training at ICT Focus
Lancaster University has become the first educational institution in the UK to offer the EC-Council Certified Ethical Hacker qualification.

Hacking into computers is an increasing problem and is being executed so well that the intruders can compromise a system, steal everything of value and erase their tracks within minutes.The goal of the ethical hacker is to help an organisation take pre-emptive measures against malicious attacks by finding out where the system's weak points are.He or she can be trusted by an organisation to examine its IT infrastructure using the same skills and methods as a malicious hacker.

The CEH course is being offered by ICT Focus, the education and training team based at Infolab21, the University's £15m centre of excellence for information communication technologies.Twelve people from both the public and private sector were the first to attend CEH training at ICT Focus and most of them achieved the CEH qualification, including three working at the University – two based in ICT Focus and one in the Technical Services Group of Information Systems Services (ISS).

Rachel Fligelstone, Head of ICT Focus, said: "The course teaches you to think like a hacker and get into the mind of the enemy. It's about taking a proactive approach and working out where your weaknesses are instead of waiting for a hacker to come to you. More and more IT security jobs are asking for the CEH qualification and that inspired us to look at it in more detail. We want to develop the range of security courses we offer and this is just the start."

The course is certified by the EC-Council which aims to foster professional standards among the e-commerce community and provide training and education.
http://www.lancaster.ac.uk/ictfocus/CEH.html