University Links Up With Burnley FC To Help Youngsters
11/22/2007 15:05:19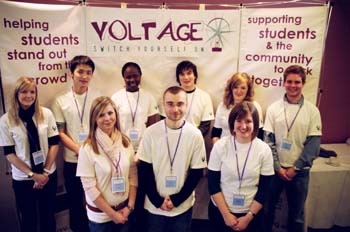 The team at LUVU involved in the Voltage project
Lancaster University's Volunteering Unit (LUVU) has been awarded over a quarter of a million pounds to turn young people's passions into community action in partnership with Burnley FC.
LUVU's Voltage project has been awarded £273,000 funding by v, the youth volunteering charity, to get young people positively involved in their communities.
Over the next three years, Voltage will support almost 1000 young people aged 16-25 to start their own social businesses in some of the most deprived areas of Lancashire. Building on success to date the initiative will involve young people visiting campus for business development days where they will plan how to make their social enterprise a success before they start trading.
One aspect of the project involves a partnership with Burnley Football Club that supports the creation of a new, community focused, youth board. The board will identify issues in their community and then work to develop solutions to them, including generating the funding to make their ideas happen.
Voltage is one of 152 projects across the country who will be funded by v as part of vinvolved, a new national youth volunteering programme backed by £75 million funding, which aims to inspire half a million more young people to volunteer in England.
Ben Matthews, Director of LUVU says: "We are very excited to be part of the vinvolved programme. The funding will allow more student volunteers to become involved with LUVU and support young people to start their own social businesses. The success of Voltage to date has demonstrated that young people are willing to act on their concerns if given the correct encouragement and support."
vinvolved has been designed by and for young people to make volunteering a compelling choice for all 16-25 year olds in England by tapping into their passions and concerns. The charity aims to change the image of volunteering and make it a 'must-have' part of young people's lives.
Terry Ryall, v's Chief Executive, says: "v is delighted to be able to fund this innovative and youth-led project, which will enable young people to get positively involved in Lancashire".
"Young people are at the heart of this new programme which aims to put them at the centre of our communities. Instead of seeing them as a problem to be fixed, we are giving them the chance to become a positive force for change."
The volunteering opportunities will be available from April 2008. For more information visit www.luvu.org.uk or www.wearev.com.