Nuffield Theatre Fosters Emerging Young Talent
02/29/2008 17:00:39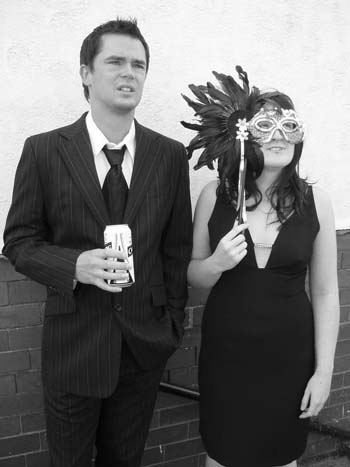 Lancaster University graduates Chris Williams and Emma Buck in the Drunken Chorus Arts Collective
The Nuffield Theatre is delighted to present a double bill of work on March 5 showcasing the talents of new performers including two former Lancaster University students.
Live Art Northwest (LANWEST), a network of regional promoters and producers, is committed to fostering emerging talent from the North West, and the Nuffield Theatre is active in supporting and developing these fresh new artists.
Former Lancaster students Chris Williams and Emma Buck are two young artists who make up the Drunken Chorus Arts Collective. Their performance of "Lost and Found [or the friend we never knew]" is described as the journey of two naively optimistic dreamers as they set out in search of the friend they never knew, sifting through the nooks and crannies of Lancaster and following the trail to Italy.
The second show, Levantes Dance Theatre "Gin and Satsumas" submerges us in a world which glorifies normality and sends the imagination overboard. Exploring pools of colour and emotion, Levantes Dance Theatre blend music, circus and crisps to create visually beautiful landscapes.
Intelligent, entertaining and generous work' Silke Arnold, East London Dance
Live Art Northwest- In Transit- A Double Bill is on Wednesday 5th March at 8pm.
ww.nuffieldtheatre.com boxoffice@nuffieldtheatre.com
01524 – 594151