Opening of a Non-Alcoholic Space
11/28/2001 11:00:01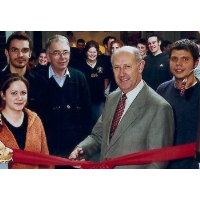 A 'Non Alcoholic space' was officially opened by the VC Professor Ritchie, in Flyde College on 12 November, the opening of a non alcoholic space on campus is a concept which has been campaigned for over the last 4 - 5 years, involving various committees, the Students Union, College Principals, Student Support.
The opening of this space has been designed to encourage a wider social interaction for students of all cultures in a place that wouldn't compromise any religious or moral beliefs associated with alcohol. In particular there are around 200 -300 Islamic students on campus. There is a Coffee Bar and hot and cold snacks available - open from 10am
10pm throughout the week. Positive feedback has been received from many of the students so far.