Royal Guest At University's 45th Anniversary Dinner
09/28/2009 12:58:01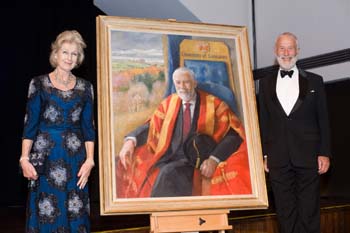 HRH Princess Alexandra and Sir Christian Bonington with the painting
Lancaster University's past and present Chancellors, HRH Princess Alexandra and Sir Christian Bonington CBE DL, were guests of honour at a Lancaster University dinner marking the University's 45th Anniversary.
The Princess was Lancaster's first Chancellor and served for 40 years. Her Royal Highness returned to see the unveiling of a portrait of the current Chancellor, Sir Christian Bonington, painted by artist Anthony Morris, R.P. N.E.A.C.
Honorary Fellows, alumni and honorary graduates came together with other distinguished guests to celebrate 45 years since the signing of the University's charter on 14 September 1964.
During the event, guests saw a specially commissioned film which sketched a picture of the University's creation before showcasing a small number of key research areas and highlighting some of Lancaster's future aspirations.
Sir Christian Bonington announced his intention to continue as Chancellor for a further period of 5 years saying that it he always 'thrilled to see the work of this vibrant and passionate institution'. He told the audience that he meets Lancaster graduates wherever he goes, even recently at Mont Blanc, during a climb.
He also spoke about 'the wonderful new facilities' which underpin the university's work, mentioning in particular the new student learning zone which opens on the 26th September, the new Sports Centre due to open for the next academic year which will benefit the local community, and ambitious new plans for the School of Health and Medicine and the Lancaster Institute for the Contemporary Arts.
Lancaster's Pro Chancellor Bryan Gray CBE DL said that after a rapid period of growth the University has become 'one of the most successful in the country' succeeding the expectations of its founding fathers and contributing significantly to the economic and cultural strength of the Northwest. He also paid tribute to Sir Christian Bonington, calling him 'a tireless ambassador' for the University.
The Vice-Chancellor, Professor Paul Wellings paid tribute to Lancaster's Alumni, saying that as ambassadors, Lancaster's graduates contribute greatly to the reputation of the University and supporting its current students and new initiatives.
He also announced plans for a major fundraising campaign leading up to the University's 50th Anniversary.
Anthony Morris was commissioned to produce the portrait of the Chancellor for the University, via the Royal Society of Portrait Painters, Mall Galleries London. The work is oil on canvas, 50" tall by 40" wide. Sir Christian's portrait will be hung next to the portrait of HRH Princess Alexandra in the Great Hall complex.