Student Accomodation Wins Crime Prevention Award
09/30/2008 12:09:32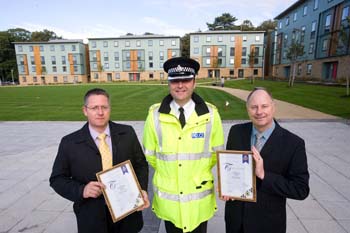 from left: Ian McManus, Chief Supt Tim Jacques and Alan Haydock
New student accommodation at Lancaster University has won an award for its design which aims to deter crime. "Secured By Design" is a flagship crime prevention initiative from the Association of Chief Police Officers awarded to developments which promote safety through everything from layout to landscaping.
Research shows that "Secured by Design" can reduce burglary and car crime by 50% and criminal damage by 25%, although Lancaster is already ranked as the safest university town in the country for crime according to The Times. The award was made to both Lancaster University and the developers UPP for the new Eco Residences developments at both County and Grizedale Colleges.
Chief Supt Tim Jacques from Lancashire Constabulary presented the award to UPP's Project Manager Ian McManus and the University's Project Manager Alan Haydock.
He said: "Whilst Lancaster is very safe anyway and the campus even more so, this award is something that the University should be proud of. It's important for both students and their parents to feel secure when they come to Lancaster for the first time."
Some features of "Secured By Design" include:
* Pathways and parking areas overlooked by residents
* Landscaping low level and the development well-lit
* Windows and doors must meet strict security standards
* Well-lit staircases and lobbies and recesses and blind corners eliminated
* Good signage to deter unauthorised access
The University's Director of Estate Management Mark Swindlehurst said he was delighted with the award.
"This award recognises the University's efforts to create student accommodation which is different and intelligently designed. The Eco-Residence was also selected as one of the UK's best environmentally sustainable buildings by BREEAM - the world's most widely used environmental assessment method. "
Jan Brown is Lancaster Police's Architectural Liaison Officer and it was her job to check that both County and Grizedale complied with the "Secured by Design" standards.
She said: "Lancaster University is very safe and we aim to keep it that way through promoting good design to stop crime before it happens. Parents are very reassured when they find out how seriously we take safety, with regular talks on campus and advice for students."
UPP's Project Manager Ian McManus confirmed UPP and their architects GWP are also delighted with the award.
"Achieving this award is welcome external recognition of the careful design consideration given to this project in order to make students' time on campus as safe and enjoyable as possible."