First ever global survey to mark World Hospice and Palliative Care Day
10/05/2006 15:59:39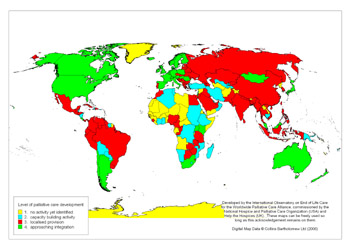 The first ever global map of palliative care
The first ever global survey of palliative care has been created by Lancaster University in order to improve care for the dying across the world. The resulting map covers all 234 countries in the world from the largest, Russia, to the smallest, the Vatican.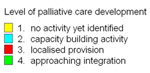 Researchers from the University's International Observatory on End of Life Care used information from a wide variety of sources and drew on extensive global contacts to assess the level of provision in each country.

Around half the countries surveyed have one or more palliative care services but one third of the world's countries has no hospice or palliative care provision at all.

The map marked the second annual World Hospice and Palliative Care Day on October 7th when hundreds of events took place globally. The theme this year was Access To Care For All.

Senior Research Fellow, the Rev Dr Michael Wright, who led on the project said: "This is a wake-up call to anyone concerned about how we care for dying people around the world. Clearly, the map shows areas of huge progress, but there is a lot of room for improvement and huge challenges still remain, particularly in the poorer regions of the world where the need is greatest."
The global map provides information for governments, healthcare planners, funding agencies and those involved in local service development.

It rates countries according to four levels of palliative care. Level One includes 78 countries – a third of the total - where there is no provision at all such as Liberia, Monaco and Syria. Level Two includes 40 countries such as Algeria, Iran and Tunisia where there are moves to create palliative care. Level Three covers 81 countries from Armenia to Zimbabwe where there is localised provision on a limited basis. Level Four covers 35 countries such as Australia and Uganda where provision is significantly integrated into mainstream healthcare.


Professor David Clark, Director of the Observatory said: "There were some pleasant surprises – Mongolia for example is a small country that has made huge strides to reach Level Four. But we were very disappointed that so many countries have only localised provision, which in Nigeria for example means two services for 130m people."

The map was commissioned by Help the Hospices in the UK and the National Hospice and Palliative Care Organisation in the USA as part of a project by the Worldwide Palliative Care Alliance.

Nick Pahl, International Development Director for Help the Hospices, said : "Hospice and palliative care services and Governments need to meet the challenge of how to provide services to as many people as possible – presently it is estimated that less than 1% of the world's population have access to a hospice and palliative care service.

"The brutal truth is that in most resource-poor countries people will be dying without access to the kind of care, pain control and support that we in resource-rich countries expect and demand."

Dr Stephen Connor is Vice President for Research and International Development at the National Hospice and Palliative Care Organisation in the US.

He said: "The global palliative care map will allow us to begin to measure the spread of palliative care worldwide. We plan to work with the Observatory to update the map regularly so that efforts to improve access to hospice and palliative care can be monitored and our collective efforts to advance the worldwide palliative care movement can be tracked and reported. Too many people continue to face the end of life without the care they need."
http://www.eolc-observatory.net/
http://www.worldday.org/about_world_day.asp