Talented young engineer sponsored by Lancaster University
12/01/2010 00:00:00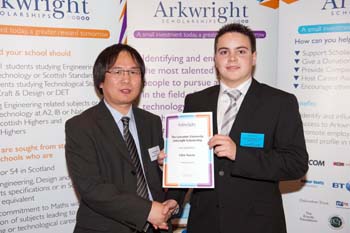 Glen Norris receives his award from Dr Xiandong Ma of Lancaster University
Lancaster University is sponsoring a pupil from Ripley St Thomas CE School with a £1,800 Arkwright Scholarship for promising young engineers.
Glen Norris, 16, received his award from Dr Xiandong Ma from the University's Engineering Department at a ceremony held at the Institution of Engineering and Technology in London.
He was one of only 264 Scholars chosen by the Arkwright Trust from over 800 applicants across the UK following a rigorous selection process. Lancaster University is among dozens of award sponsors including BAE Systems, BT, Rolls-Royce and the RAF.
The award means Glen will receive £500 for his two years of A Level study, with a further £200 for Ripley St Thomas School each year.
He has already gained a total of 12 GCSEs including 4 A* and 4 A grades and he will now study for 4 A Levels before doing a degree and working in engineering or product design.
He said: "I'm very pleased to have been awarded the scholarship, which will help me with money for books and equipment. It'll also make me stand out in applying for university. I am definitely considering Lancaster because I was very impressed when I was given a tour of the campus. It's a great university for engineering."
During the interview Glen presented his GCSE project work to a panel of interviewers at Lancaster University, where he toured the Engineering Department.
Professor Malcolm Joyce, Head of the University's Engineering Department said: ""Glen's application showed he has exceptional promise in the discipline of Engineering. We're very pleased to be able to offer him this opportunity along with leaders in the Engineering sector"
Also at the award ceremony was Professor Dame Ann Dowling FREng FRS, Head of the Department of Engineering at the University of Cambridge, who said she was impressed by the achievements of the Arkwright scholars.
She said: "It is great to know that these talented and creative young people are thinking of careers in design and technology. The UK has a real need for engineers who can contribute to addressing some of the challenges that face mankind, such as meeting our needs for energy, water and food in sustainable ways, and building a robust economy based on products and services that people want."