Partnership brings fresh focus to food industry
07/02/2004 11:26:58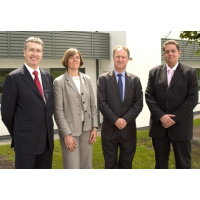 Lancaster Environment Centre and Waitrose sign up to Sustainable Agriculture Centre
Lancaster Environment Centre and Waitrose supermarkets have placed themselves at the forefront of the changing face of farming with the launch of a unique Centre for Sustainable Agriculture.
The new initiative, in partnership with Waitrose, will be based at Lancaster University's newly-launched Lancaster Environment Centre – a £25 million facility bringing together environmental researchers of international reputation from Lancaster University and the Natural Environment Research Council's Centre for Ecology and Hydrology, to form one of the largest groups of its kind anywhere in Europe.
The Waitrose Centre for Sustainable Agriculture will act as a hub for high-level research into key issues such as delivering sustainable horticulture, improving food quality, reducing the environmental footprint of food production, and integrating agriculture with sustainable regional development. It will also research sustainable technologies and changes to agricultural land use.
The Centre will provide a unique range of expertise, from genes to landscapes, from farm to consumer, from agribusiness to rural development. It will be funded from both public and commercial sectors.
Prof. Bill Davies, Co-Director of LEC, said: "This is a really exciting development for the university. We have already forged strong links with Waitrose who chose us to deliver the first industry course in responsible agronomy. The Waitrose Centre will take forward issues raised by the Curry report, which highlighted the need to shift away from intensive food production."
Angela Megson, Director of Buying, Waitrose, said: "We are delighted to be working with Lancaster University on another industry first. Waitrose prides itself on the quality of its foods, and the methods used to produce them. We look forward to working with our suppliers, growers and the expertise of Lancaster University."
Photograph Caption L - R:
Professor Paul Wellings, Vice-Chancellor; Amanda Frisby - Food Technologist for Waitrose; Alan Wilson, Technical Manager, Agronomy, Waitrose; Dr Mark Bacon, Director Plant Sciences for Industry and Director TIDE Unit