Gothic Conference pulls in the crowds
08/04/2009 13:16:03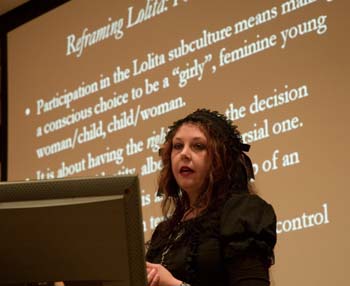 A speaker at the Gothic conference
Lancaster University has hosted the world's largest ever conference on Gothic literature, film and popular culture. Teachers, academics, students, artists, writers and performers from around the world came to the conference to share their interest in all things Gothic from Buffy the Vampire Slayer to Mary Shelley's Frankenstein.
The Lancaster conference was the biggest ever meeting of the International Gothic Association attracting more than 200 delegates from 24 countries.
Spooky goings included a Goth DJ set, a recreation of an authentic Victorian Magic Lantern show and a host of high-profile speakers giving their take on Gothic culture.
Event co-organiser Dr Catherine Spooner, Senior Lecturer in the Department of English and Creative Writing, said the phenomenal response to the conference reflected the resurgence of Gothic in contemporary popular culture.
She said: "Gothic literature first emerged two hundred and fifty years ago, but in the twenty-first century it has diversified into other media, and is more popular than ever – look at the massive success of the Twilight books and films, or TV shows like True Blood and Supernatural and computer games like Silent Hill.
"The extraordinary range and diversity of the proposals we received shows that Gothic is also thriving as a subject of academic research."
Delegates gave papers on art, music, fashion, dance, theatre, architecture, TV, digital culture, computer games and medicine as well as literature and film.
Director of Tate Liverpool, Christoph Grunenberg spoke about Gothic influences in contemporary art and there were also discussions with novelists Jo Baker and Paul Magrs and screenwriter Daragh Carville.
Cumbria-based artist Steve Messam created an installation inspired by the experience of attending Goth nightclubs, Cloud Cube, especially for the event.
There were even Gothic cupcakes designed for the occasion by Lancaster's Yummy Cupcake Company – with icing in black and absinthe-green.
For more information got to www.monstrous-media.com