LEC Students display their work
06/12/2008 12:31:28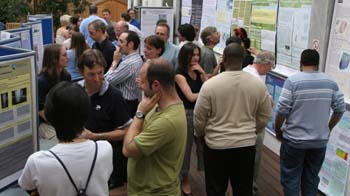 University and CEH staff and students discuss the wide range of work on show at the LEC PhD student poster session on Thursday
Over 100 Masters and PhD students presented posters describing their research projects at two Lancaster Environment Centre (LEC) Poster Days held in the LEC Atrium on Wednesday and Thursday last week (4-5 June). This provided an opportunity for students in the three departments that are coming together in LEC – Biological Sciences, Environmental Science and Geography – to present their work to a broad audience, and for both staff and students to gain an overview of the very wide range of research work being carried out across the Centre.
At the Masters session on Wednesday, students on the diverse portfolio of degree schemes offered by LEC (see http://www.lec.lancs.ac.uk/postgraduate/) presented posters describing their ongoing dissertation projects. The prize for best poster was awarded to Robyn Briggs (MSc Ecology and Environment) for her poster on "Development of a Biodiversity Management Plan for a Cumbrian Tourism and Leisure Complex", and runners up prizes were awarded Raimie Haji Ibrahim (MSc Environmental Science) and Xiao Ma (MSc Ecology and Environment).
At the Ph.D. student session on Thursday, students from all four LEC research themes (see http://www.lec.lancs.ac.uk/research/) presented posters on topics ranging from the surface of Mars to the politics of adaptation to climate change, and the origins of the Himalayas to the changing environment of the Lake District. Staff from the Centre for Ecology & Hydrology, many of whom are involved in supervision of these projects, joined colleagues from the University in this event. Prizes for the best posters from students in their 1st, 2nd and 3rd years of study were presented by Professor Graham Harris, who took up his post as Director of LEC this month. These were awarded to, respectively, AndrewHirons for his poster on The Effect of Novel Water Management Techniques on Ornamental Tree Production, Elizabeth Turner for her poster 'A 25,000 year record of carbon isotope variation from diatoms' and William Mallott for his poster on Nutrient limitation and climate change in high elevation systems.