University Helps Young Entrepreneurs in East Lancashire
12/19/2008 10:59:54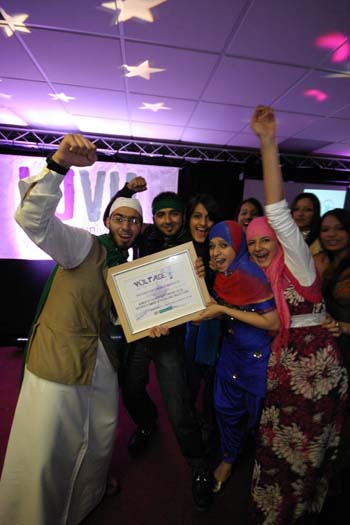 The "Go Green" team celebrate their award
Almost a hundred future entrepreneurs from local schools have raised £2000 for community projects with the help of Lancaster University students.
The sixth form pupils from Thomas Whitham Sixth Form, Nelson and Colne College, Burnley College, Blackburn College and Clitheroe Royal Grammar School worked with Lancaster University Volunteering Unit (LUVU) on the Voltage project to devise a social enterprise to benefit the community.
Ideas ranged from a cultural event for primary school children, a smoothie making business to raise awareness of healthy eating, and a "green" day to promote recycling in schools.
So far £2000 profit has been made which is being shared between a variety of community and charity groups including Children in Need, a breast cancer charity and Pendleside Hospice .
The Voltage Project, funded by v, the national youth volunteering charity, is run by LUVU in partnership with Burnley FC Community Sports Trust.
The project culminated in an event at Burnley Football Club where the pupils made innovative presentations about their enterprises. The event was attended by school teams and teachers, the Mayor of Burnley Councillor Ida Carmichael, Michael Payne the President of Lancaster University Students' Union (LUSU) and student volunteers .
Voltage Coordinator Sidonie Richardson said: "It has been such a rewarding experience working with the students as they have all really engaged with the activities. I am so proud of the work that they have done and it's great to know that some of the social enterprises are sustainable and will continue to operate in the future!"
Michael Payne, LUSU President, awarded the Outstanding Enterprise Award to "Go Green" from Thomas Whitham Sixth Form. He said: "LUSU is proud to support young people making a difference in their community. I found the presentations inspirational and they clearly demonstrated the passion, commitment and determination of all those involved."
A student from the "Unite" business at Nelson and Colne College whose team won the Exceptional Team Award said: "Our confidence has grown and we have gained a lot of business knowledge by taking part in the project."
Voltage will be continuing their work in East Lancashire in the Spring to expand the students entrepreneurial skills even further.