Professor Cary Cooper Honoured by British Psychological Society
07/01/2010 00:00:00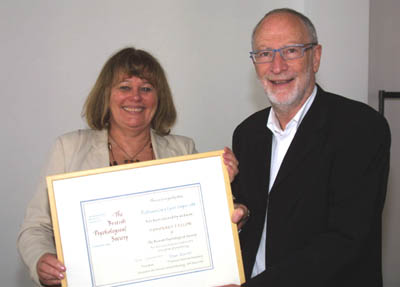 Professor Pam Maras presenting Professor Cary Cooper with his award
Professor Cary Cooper, Distinguished Professor of Organisational Psychology and Health at Lancaster University Management School, has been made an Honorary Fellow of the British Psychological Society.
The award recognises the contribution which Professor Cooper has made to the discipline of psychology. He was invited to the Society's AGM in London where he was presented with a framed certificate following a eulogy from the Honorary General Secretary Professor Pam Maras.
Honorary Fellows are elected on the basis of being "persons of distinction who have contributed to the advancement of psychology".