Bright Sparks Fired Up By Social Enterprise
03/08/2007 16:38:55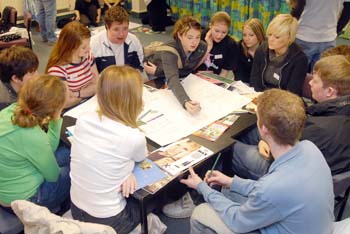 Pupils from Morecambe High School on campus
Student volunteers from the Lancaster University Volunteering Unit (LUVU) are helping local teenagers develop their own social enterprises in the community, from event managing a rock concert to selling T-shirts.
More than a hundred pupils from schools in Morecambe, Blackpool, Lancaster, Kirkham and Kirby Lonsdale have visited campus for a series of conference days. Student volunteers from LUVU ran sessions to teach them about business plans, marketing, finance, and presentation skills.

LUVU's Voltage project has been awarded £80,000 from v, the new youth volunteering charity, to develop social enterprise among young people, with any profits made by the pupils ploughed back into the community.
Martha Jennings, Voltage project co-ordinator, said: "We've given them £20 for their marketing budget and the marketing team from the Students' Union are helping the pupils design their posters professionally."

The schools involved are Blackpool Sixth Form College, Blackpool and Fylde College, Carr Hill School at Kirkham, Queen Elizabeth School at Kirby Lonsdale, Morecambe High School, Heysham High School and Skerton High School in Lancaster.

Morecambe High School pupils are to hold a school disco with the profits going to the Loyne School for children with special needs. Pupil Sophie Thompson said: "It's good experience to find out about marketing and how to interact as a team."

Pupils from Queen Elizabeth School at Kirby Lonsdale are to organise a 70s disco and pub quiz with profits split between the school and the Cancer Research Fund, while pupils from Skerton High School are staging a rock concert in aid of the school library.

Pupils at Heysham are planning to sell Fair Trade T shirts with the profits going to the North West Air Ambulance. Their teacher David Freear said they had learned a lot already.
"Their communication skills have improved and they've learned how to hold a meeting and take minutes and what an agenda is."

Blackpool and Fylde College pupils are organising a talent show and Fairtrade stall in aid of Donna's Dream House in Blackpool which provides holidays for terminally ill children.
Pupil Arran Taylor, who is 16, said: "We're holding auditions for the talent show and we want to get Radio Wave involved. It's good getting people to work as a team for a good cause."

Over the next six weeks the students will set up and run their social enterprises. The Voltage project will culminate in a gala event at the Lancaster House Hotel in May when the pupils will give a presentation on their business and a winner will be chosen.