Royal Society award for Lancaster University researcher
03/10/2006 09:58:13
A Lancaster University professor has been awarded a prestigious five-year Royal Society Wolfson Research Merit Award, which aims to help universities retain talented researchers.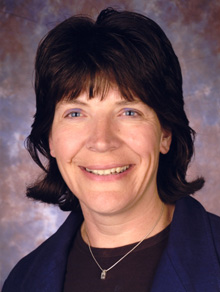 Professor Barbara Maher

Barbara Maher, Professor of Physical Geography and co-Director of Lancaster University's internationally-known Centre for Environmental Magnetism and Palaeomagnetism, uses the magnetic properties of natural and synthetic materials to answer important questions about climate change and the environment.

This research uses magnetic particles, present everywhere in the environment, in rocks, sediments, soils, dusts, water and in humans, as nanoscale recording mechanisms of changes in climate and environment, and even human health.

The research has resulted in the manufacture of new magnetic materials which can solve serious water contamination problems. It is also finding answers to other environmental questions such as how windblown dust to the oceans changed greenhouse gas levels in the past, and where and to what level vehicle pollution occurs.

The new and exciting development of synthetic magnetic particles for water decontamination was a direct result of Professor Maher's climate-related research. She started working on making nanoscale magnetic materials in the lab in order to try and understand the conditions in which soils make magnetic particles. Professor Maher's work has shown that soils make more magnetite (a strongly magnetic iron oxide) when they are subjected to more wetting and drying cycles, i.e. under higher rainfall conditions. This link between soil magnetism and climate at the present day has been extended to find out how rainfall has varied in the past – by measuring the magnetic properties of fossil soils buried between layers of windblown dust in places like northeastern China, where more than 32 fossil soil layers act as rainfall recorders for the last 2 million years.

Based on the fossil soil magnetic properties, Professor Maher has identified when the monsoon failed and when it was intense, and began to predict how it will behave into the future, a key outcome for the millions of people who live in the Asian monsoon zone.