Students Compete in Carbon Footprint Competition
01/23/2009 09:49:06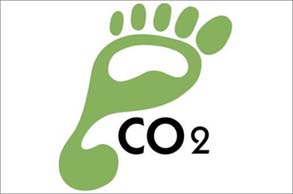 the competition logo
Students from two colleges at Lancaster University are competing to reduce their carbon footprint this term. The competition involves the new Eco-Residences at Grizedale and County Colleges. State-of-the-art technology allows the carbon footprint of each townhouse to be calculated from its water, gas and electricity usage.
The system works by sending the utility data from each townhouse to the GreenLancaster website where a calculation based on government figures converts the gas, electricity and water usage into an overall carbon footprint.
The residents can log onto the GreenLancaster website www.greenlancaster.org.uk and view their carbon footprint and utility use for their house in real-time, as well as check on who is winning.
The competition has been initiated by GreenLancaster which was formed from a partnership between LUSU, Estate Management and property provider, UPP. It is part of a pilot scheme to explore ways of incentivising energy reduction at the university.
Tom Roberts of GreenLancaster said: "With spiralling energy costs and the need to reduce carbon emissions we felt there was an educational opportunity to highlight the issue of climate change by linking it into students' everyday living practices.
"The Eco-Residences use the latest technology to work with the occupants to cut their utility usage. The competition is a fun way of harnessing student rivalry and offering the students the chance to win prizes by saving utilities and cutting their own carbon emissions."
There are six cash prizes for the competition. The Eco-Residence townhouse with the lowest carbon footprint will win the top prize of £600, second and third will win £300 and fourth, fifth and sixth will win £200. Therefore the 12 residents of the winning townhouse will receive £50 each of the £600 1st prize, which is approximately the average termly utilities bill per student. The winners will be announced in early March (week 9).
GreenLancaster has been providing advice to the students to give them the best chances of cutting their carbon and winning cash prizes. Students have been given top tips to help reduce their carbon footprints.
Switch off lights and equipment in communal areas or bedrooms when not needed

Switch off lights and equipment in bedrooms left empty for the weekend

Switch equipment like the TV or PC off, rather than leaving on standby

Turn off/down radiators (use the thermostatic valve) if heating is not required. Set the radiator to a comfortable temperature, in winter 2-3 should be about right

Have a quicker shower to conserve water

Next time you want a brew, just boil the water you need

Fridge freezers use a lot of electricity, thermostats should be on 2-3 to keep items fresh. Try to minimise door openings

Choosing the right pan size for the food and cooker. Using lids on pans will make cooking not only quicker, but greener too

For small amounts of food the microwave is best using up to 70% less energy than an oven
The pioneering Grizedale and County Eco-Residences have won a BREEAM award for their green features. This includes 70per cent heat recovery ventilation, sustainably sourced timber and lighting activated by movement sensors. The Eco-Residences have also won a 'Secured by Design' award for their crime prevention features including overlooked pathways and secure windows and doors.
For more information about the competition please visit http://greenlancaster.org.uk/carbon-competition/