Honorary Fellowships 2011
04/14/2011 11:00:21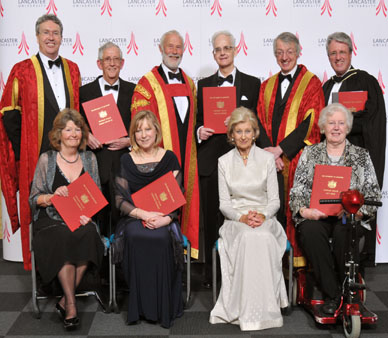 from left: Vice Chancellor Paul Wellings, Gordon Johnson, Chancellor Sir Christian Bonington, Michael Forster,Pro Chancellor Bryan Gray, Public Orator Emeritus Oliver Westall, Pamela Barker, Jacqueline Whiteside, HRH Princess Alexandra and Lady Smith
Lancaster University has awarded five Honorary Fellowships to people who have given distinguished service to the University or region. The Chancellor Sir Christian Bonington presented the fellowships at a dinner attended by HRH Princess Alexandra, Founding Chancellor from 1964 to 2004. The five recipients for 2011 include the former heads of both Lancashire County Council and Lancaster Girls' Grammar School together with the University's first Deputy Secretary and Academic Registrar, the former University Librarian and a current University supporter.
Gordon Johnson DL
Gordon Johnson was the Clerk and Chief Executive to Lancashire County Council from 1991 to 2000 and is now the Constable of Lancaster Castle. He played a central role in the success of the innovative Lancashire County Enterprises, with its important contribution to economic development in the county. Between 2002 and 2010 he was the University's Deputy Pro-Chancellor.
Jacqueline Whiteside was University Librarian from 1994 to 2009. She oversaw a revolution in the nature of the Library's work, as it moved from paper to electronic based resources. Jacqueline became noted for the ability to lead staff creatively through change. She managed the construction of the Library Extension, integrated the Ruskin Library and for ten years was responsible for the University Careers Service. From 1999 she became Director of the Centre for North West Regional Studies. Her wide experience and capacity made her a valued member of many senior University Committees.
Pamela Barker DL
Pam Barker was for some twenty years the Head of Lancaster Girls' Grammar School. In that time she modernised the School, expanding its capacity and numbers and raising its academic standards to among the highest in England. Mrs Barker was also a valued member of the University Court and Council.
Michael Forster
Michael Forster was the University's first Deputy Secretary and Academic Registrar appointed in 1964. He was the first Secretary of the University's Development Committee, the group that exercised management control over the University's life. He thus played a central role in the foundation of the University's successful operation and provided a model of conscientious commitment for all new administrative staff.
Lady Smith

Joan Smith is the widow of Professor Sir Roland Smith, a pioneering management academic who held the first chair in marketing in a British University at UMIST, of which he became Chancellor. She developed her own business interests in the North West and now engages in benevolent activities. Lady Smith has supported the University through the establishment of the Professor Sir Roland Smith Chair in Strategic Management and the Chief Executive Lecture Series, also named in honour of her late husband.