Lancaster University student wins Senior Learner of the Year Award
05/16/2007 11:35:34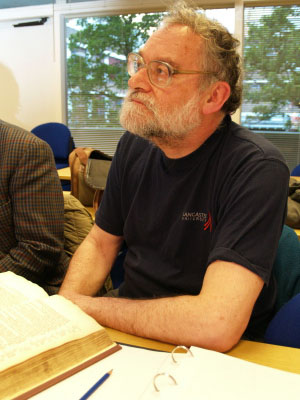 Michael McGrath
A Lancaster University Student, Michael McGrath aged 64, has won the National Association of Adult Continuing Education Student of the Year Award for the North West.
Michael was nominated for the award by the University's Department of Continuing Education, with whom he has studied many short courses in a number of different subjects over the last few years.
Assistant Director of Continuing Education Lucy Lloyd said, "We're absolutely delighted to hear of Michael's success as it is so well-deserved. Michael has taken a great many courses with us since he first enrolled on a short course in 1994. While he clearly gets a lot out of the classes, his tutors say that he is also a great contributor to the discussions. Michael is typical of most of our students who are ordinary members of the public who want to expand their knowledge and find it stimulating to learn new things."
Michael's interests are wide ranging. He has studied Russian, starting at beginners' level and working through to advanced level, as well as a variety of history, politics, archaeology and music courses. Of his Russian studies Michael said, "It is fascinating for me, a former soldier, to go on-line and read of the activities of the former enemy, and to reflect on the similarities and differences in the mid-sets of high ranking officers in the East and West."
Michael attends the University's short courses as weekly classes or weekend courses both on campus and also near to his home in Blackpool, as well as taking part in campus-based summer schools. Michael suffers from ill-health, and says, "For as long as I can remember I have been interested in learning. The mental stimulation Lancaster Uni. has given me has undoubtedly enhanced my physical as well as my spiritual well-being. I like the warm, fuzzy feeling I associate with getting another Certificate! I feel that adult learning is beneficial to the individual, society, the country and the wider world."
When asked what the future holds, Michael said that he planned to do an MA in Politics or History or Linguistics or maybe a foreign language.
The above photo was taken by David Benoit-Asselman, who is currently a student on a history course with Michael, and developed his digital photography skills on courses run by the Department of Continuing Education
If you would like to find out about the wide range of part-time learning opportunities available for adults of all ages with Lancaster University please contact the Department of Continuing Education on 01524 592623/4. The courses are open to everyone and a warm welcome is given.