Local high schools celebrate science with Lancaster University Volunteering Unit
03/14/2008 10:48:24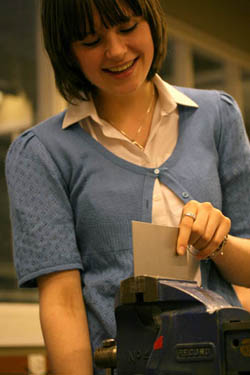 Pupil visting campus during National Science and Engineering week
On Wednesday 12th and Thursday 13th March, Skerton Community High School and Central Lancaster High School visited Lancaster University. The schools joined student volunteers in celebrating National Science and Engineering week.
There were approximately 30 pupils from each school. They started the day by measuring the weather with the Environmental Science Dept. and there was certainly a lot of weather to measure! They then spent the afternoon with the Engineering dept where teams competed to build the strongest bridge from just spaghetti and the fastest elastic powered car. A student from Skerton said that they had "loved the day and just wanted to do more."
The students were also given a tour of campus in which they had a chance to ask the student volunteers about life at university. There was also a discussion on how science and engineering are used in the world around us and what jobs can come from studying science or engineering.


Mr Bowerman, teacher from Central Lancaster High School said: "The day was very well organised". And the students were described as "having a great time" by Ms Pearson, a science teacher at Central Lancaster High School
The days were run to celebrate National Science and Engineering Week which is organised by the British Association for the Advancement of Science (the BA). The BA describe this event as: "A celebration of science, engineering and technology which sees families, schools, adults and children taking part in a fantastic array of events and activities across the UK."
LUVU exists to facilitate student teams in running projects that assist local community organisations. The schools projects have excelled at this; this year alone LUVU have worked with 14 primary schools, 15 secondary schools and involved over 200 university volunteers.
Photographs courtesy of Abi Williams