Interactive Art
07/12/2005 16:34:38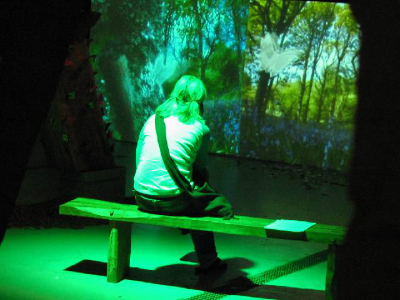 Metamorphosis at Welfare State International
A Computing collective at Lancaster University has teamed up with a group of Cumbrian artists to produce an exhibition with a technological twist.
Metamorphosis, which runs at Welfare State International's Lantern House in Ulverston, throughout July, is a creative coupling of technology and art that asks some interesting questions about how we interact with computers.
The exhibition takes the form of a large audio-visual installation - an animated film of a butterfly emerging from a chrysalis is projected across three large screens and is accompanied by a bespoke sound track. What sets this exhibition apart from other installations is the experience is entirely controlled by the viewer and it's up to them to discover how to interact with the butterfly.
Multiple hidden sensors scattered around the room register any movement in the exhibition space sending coded messages to the audio-visual equipment. For example if a person approaches the butterfly projected across the screen, the butterfly will appear to become afraid and fly back into its chrysalis. To add to the ambience, the room is filled with handmade butterflies which flutter as carefully placed fans oscillate back and forth.
Computing Department collective .:thePooch:.- based in the University's ICT research, development and business centre Infolab21 - is interested to learn more about how people interact with technology in a new context. This is just one of their current research projects in this field.
Lancaster computing researcher Peter Phillips said: "Research into human-computer interaction has typically seen computing as task driven but this installation is more about an experience than a task. We are interested in observing whether people discover that they are controlling the exhibition, and if they do, how do they make that connection and how do they use that control." Tom Lloyd, film, video and sound artist along with artists Hannah Fox and Dan Fox worked with University researchers on the project.
He said:"It has been good working with .:thePooch:. spending time with them and seeing the ways in which they work. It has been interesting working with a mix of low technology (the butterfly was made out of a brown paper envelope)and hi-tech computer systems."
The exhibition, funded by the Friends Programme at Lancaster University and Welfare State International, is part of a much larger Lancaster University project called eCampus - a unique public display infrastructure which will ultimately see multiple interconnected screens scattered across the University campus displaying information, interactive installations and real-time performance.
Later this year Metamorphosis will be used as part of the eCampus project. It will be projected on multiple screens in the University's underpass - a concrete underpass where cars, trucks and busses will trigger the image rather than people.
•InfoLab21 Lancaster University's InfoLab21 is a new research, development and business centre in Information and Communication Technologies. It is an international centre of excellence housing more than 250 staff working in information and communication technologies, focussing on networked and multimedia systems. http://www.infolab21.lancs.ac.uk/
•Welfare State International Welfare State International, based in Lantern House, Ulverston, is a company of artists who pioneer new approaches to the arts of celebration and ceremony in the U.K. and internationally. Tom Lloyd, Hannah Fox, Dan Fox are Welfare State International artists. http://www.welfare-state.org/
• .:thePooch:. .:thePooch:. is a collective of experimental systems artisans who (mostly) work within the Computing Department at Lancaster University. The installation was put together by Jennifer Sheridan, Peter Phillips, Stewart Kember. http://www.thepooch.com/