Adulterated Tales Festival at the Nuffield
04/28/2009 13:26:42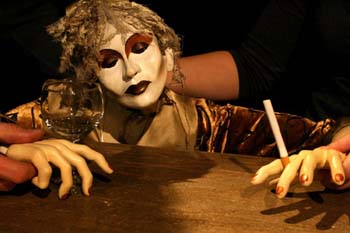 Low Life by Blind Summit
The Nuffield Theatre is excited to announce the launch of Adulterated Tales, a performance festival of dark stories for grown-ups, from April 22-May 9.
The Festival opens with the World Premiere of VIRTUOSO (WORKING TITLE), an outstanding new work from Lancaster/New York based Proto-type Theater. This Nuffield-commissioned show sees the performers construct a television show live in the theatre, based in a twisted, sinisterly funny American suburbia. This is followed by Imitating The Dog's much anticipated KELLERMAN (postponed first season), which features a brilliant mix of film, animation and live action and Belgian actress Vanessa Van Durme's startling autobiographical monologue LOOK MUMMY I'M DANCING.
The festival also features an exciting chance to be part of the development of THE SOLDIER'S SONG, an installation by Manchester company Quarantine. Taking the form of an interactive karaoke booth, the piece explores the world of currently serving British soldiers through the music they listen to. Festival visitors are invited to help test out the piece and to join a soldier in song.
To close Adulterated Tales, the Nuffield welcomes the desperate, gin-soaked LOW LIFE cabaret, the superb show from puppet innovators Blind Summit who skilfully bring their puppet co-stars to life to tell their dark and drunken stories.
Each company will also curate additional elements to take place alongside their shows and these will appear on the Nuffield website and Facebook.
As part of the 'A Night Less Ordinary' free tickets scheme, we have set aside a number of free tickets for young people under 26 for ALL festival events, on a first come first served basis.
Quarantine - THE SOLDIER'S SONG
Various Times 22 - 30 April
FREE EVENT
Quarantine are currently developing THE SOLDIER'S SONG at the Nuffield Theatre this spring for further touring later in the year. The piece takes the form of a karaoke booth, where the visitor finds a video screen, a microphone and an invitation to sing.
Visitors to Adulterated Tales Festival between 22-30 April are invited to help Quarantine test out the piece. Contact box office for times and details.
Proto-type Theater – VIRTUOSO (WORKING TITLE)
8pm, Wednesday 22 & Thursday 23 April
£10 / £7 concessions
Three performers construct a twisted, darkly funny American suburbia, using miniatures, costumes, props and backgrounds to assemble the perfect shot for a television show that doesn't exist while outside the world closes in... With Virtuoso (working title), Lancaster-based Proto-type Theater create a world of televisual decadence. Suitable age 16 plus.
Imitating the Dog – KELLERMAN
8pm, Tuesday 28 – Thursday 30 April
£10 / £7 concessions
KELLERMAN is a gothic tale of obsessive desire, demonic doctors and monstrous nurses, combining film, animation and live action; this is a moving and accessible new performance from the creators of the critically acclaimed Hotel Methuselah.
Vanessa – LOOK MUMMY I'M DANCING
8pm, Wednesday 6 – Thursday 7 May
£10 / £7 concessions
Belgian artist Vanessa Van Durme, born a boy in 1948, talks with surprising honesty about her sex change in an attempt to break down the public's prejudice, demonstrating that people who are different are also people. Look mummy, I'm dancing, is the stage version of Vanessa's autobiography of the same name and has been performed in four languages all over Europe and America.
Blind Summit – LOW LIFE
8pm, Saturday 9 May
£10 / £7 concessions
A cabaret of people with hang-ups and puppets with hang-overs... A man dances a love duet with a beer glass, a diva drinks to forget, Bud the action-hero-plumber is literally drowning in drink and Jack Belane, tiny private detective, totally screws up a case. These are the characters of the "Low Life cabaret", a world where puppets tell their tales to a soundtrack of Tom Waits. 'Mad, bad and beautiful in equal measure.' **** Guardian