Premiere of play by Theatre Studies graduate
01/25/2007 11:32:02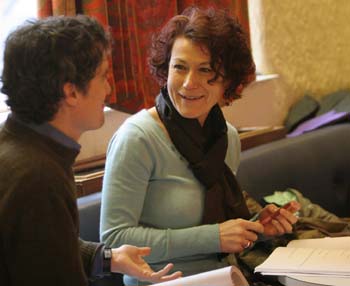 Lesley Anne Rose in rehearsal: photo courtesy of George Coupe
A Lancaster graduate is to have her first full-length play given a world premiere at the Dukes Theatre and Cinema in the city.
Lesley Anne Rose has written a drama entitled Home Fires which explores four generations of women from the Second World War to the present day.
She wrote the first draft of the play while in the final year of a joint degree in Theatre and Religion but it was to be another eight years before it was finally staged.
"It feels brilliant. It's not unusual for a large piece of work to take time for new writers, hardly anyone will commission an unknown so it's a case of working away in any free time you get.
"Part of the Theatre Studies course involved a play-writing module which was useful and I've taken part in playwriting schemes since graduating but I didn't always want to be a playwright. This opportunity has come out of the blue and I've learned so much and been inspired so much that I'd like to give it another try."
Interspersed with real archive film footage from World War Two, Home Fires tells the story of Lily, a young cinema usherette in 1943 whose husband is away fighting. She loses herself in the whirlwind romance of films like Casablanca and is attracted to a man with Gary Cooper eyes.
Sixty years later, Lily's daughter and grand-daughter discover her wartime diary and discover that their ties with the past are stronger than they realised.
Now the Duke's film programme manager, Lesley Anne was herself working as a cinema usherette – as her grandmother did before her - at the time she began writing the play.
"I liked getting lost in the movies and I was determined to write more about women's experiences of war."
She said she had enjoyed seeing the six-strong cast bring her play to life in rehearsals.
"Plays are mostly written in isolation and it has been a very good experience working through things with actors who are trying to make real the characters you have invented."
The play at the Dukes runs from February 1 to 24.