Arts Events
10/16/2007 10:26:39

Nuffield Theatre Presentations


The BE(A)ST of Taylor Mac

2 November @ 8pm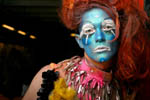 Taylor Mac
Multi-award-winning New York sensation Taylor Mac sings of life and love, doubt and fear at The Nuffield Theatre, Lancaster University on Friday 2nd November at 8.00pm. Funny and moving with a sweet, powerful voice, this is an evening of gender-bending surrealism that explores the human condition and global politics. Oh, and he plays the ukulele.
"Accompanied only by a ukulele and a handful of minor props, Mac sings satirical, sometimes astonishingly tongue-twisting ditties that veer off on tangents - from comedic to political, joy to heartbreak, tender to harsh - in the blink of a sequinned eye." Sydney Morning Herald
"It's not just that his delivery is flawless. It's not just that he's beautiful and charming. It's that his smart, funny, tragic songs are life-affirming in their universality, yet delivered in such an understated way he's on to the next before you realise the profundity of what he's said. If we're used to drag that stereotypes gender and reduces possibilities with its bitchy schtick, Taylor Mac is something entirely different, expansive and full of potential. Quite the most distinctive and brillant performer I've witnessed in ages." -- The Scotsman
Nuffield Theatre, Tickets: £10, £7 concessions, Box office: 01524 594151
Email: boxoffice@nuffieldtheatre.com, Website and online booking: www.nuffieldtheatre.com


************************

Rajni Shah – Mr Quiver at The Nuffield, with food and drink!

5 November @ 6pm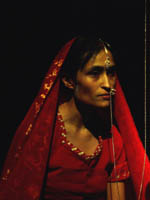 Rajni Shah – Mr Quiver
Performance artist, writer and producer Rajni Shah is coming to The Nuffield Theatre, on the 5th November with Mr Quiver. Described as a durational event, Mr. Quiver combines the intensity of performance with the intimacy of installation. Exploring themes of identity, theatricality, and our relationship to the land we live on, this performance is built and then destroyed over the space of four hours, starting at 6pm. Audience members enter and leave as they wish, and may walk amongst the performers or sit back and enjoy the spectacle around them.
Rajni Shah (director/performer), Lucille Acevedo-Jones (costume/set designer), and Cis O'boyle (lighting designer) create three performative loops that weave in and out of synchronisation during the four hours. By repeatedly inhabiting and abandoning the figures of Elizabeth I and a traditional Indian bride, Rajni reveals more and more of her true self during the performance and gently invites the audience to question their own identity.
Complete with haunting original vocals (live and recorded) and a stunning series of costumes, this delicate and probing performance offers up questions and images that will stay with an audience long after leaving the theatre.
'It's a beautiful piece - a living work of art.' Total Theatre magazine
Make an evening of it…
Audiences won't have to choose between seeing the performance and taking part in more traditional November 5th festivities either. You can experience the bonfire from start to finish on a giant glass screen in the theatre foyer without getting singed, frozen or attacked by stray fireworks. There will be warm food and drinks served in the bar and you can even step outside to wave a sparkler or two.
Nuffield Theatre, Tickets: £5, £3 concessions, Box office: 01524 594151, Email: boxoffice@nuffieldtheatre.com, Website and online booking: www.nuffieldtheatre.com

Lancaster International Concert Series

1 November @ 7.30pm

BBC Philharmonic
Thomas Dausgaard conductor
Antje Weithaas violin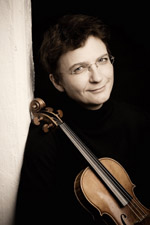 Antje Weithaas
The BBC Philharmonic, conducted by Thomas Dausgaard, will be playing music by Messiaen, Tchaikovsky and Nielsen in The Great Hall at Lancaster University on Thursday 1st November. One of the highlights of this season's Lancaster International Concert Series, the BBC Philharmonic is widely recognised as one of Britain's finest orchestras and has a worldwide reputation for outstanding quality and committed performances over an immensely wide-ranging repertoire.
The programme opens with 'Hymn to the Holy Sacrament', a rarity by the great French composer, Messiaen. Colour is at the heart of Messiaen's music, and he believed that every piece 'must be interesting, beautiful to listen to, and touch the listener'.
The second piece, Tchaikovsky's Violin Concerto, is one of his happiest works, brimming with tunes of a song-and-dance-like nature. This performance features the former East German, Antje Weithaas. Renowned for her sweet tone, Antje is one of the most sought-after soloists and chamber musicians of her generation.
Finally, Nielsen's still startling Fifth Symphony, in which the martial side-drummer is instructed to improvise 'as if at all costs to stop the orchestra' is one of the finest of all 20th-century symphonies, depicting conflict between good and evil.

Tickets: £18, £15, £12 (£14.50, £12.50, £10 concessions) £5.50 Young person, For tickets or further information contact the Box Office, Tel: 01524 594151 (24 hour answerphone), Fax: 01524 847298, SMS Text: 07810 082832, Email: boxoffice@lancaster.ac.uk, Online booking: www.lancasterconcerts.co.uk
**************


8 November @ 7.30pm
Dante Quartet
Krysia Osostowicz violin • Giles Francis violin •
Judith Busbridge viola • Bernard Gregor-Smith cello
Dante Quartet by Peter Whyte
The Dante Quartet will be playing in The Great Hall, as part of the Lancaster International Concert Series on Thursday 8th November at 7.30pm.
Winners of the 2007 Royal Philharmonic Music Society chamber music award, the renowned Dante Quartet was founded in 1995, its poetic name reflecting a great, challenging journey. Audiences joining the Quartet on its inspirational journey are always struck by the emotional intensity and engaging personality of its performances.
Fauré's intimate, expressive String Quartet in E minor and Franck's breakthrough String Quartet in D (the first French string quartet) come from the end of their lives. After hearing it performed, Franck remarked that he could now 'die a happy man'. They're preceded by one of the freshest and most inventive of works by the father of the string quartet, Haydn, with String Quartet in C major, Op.54 No.2.
Meet the Artist: 6.45pm
Ticket: £14.50, £12 (£12.00, £9.50 concessions) £5.50 Young person, Box Office 01524 594151 (24 hour answerphone) Fax: 01524 847298, SMS Text: 07810 082832, Email: boxoffice@lancaster.ac.uk, Online Booking: www.lancasterconcerts.co.uk

*****************

15 November @ 7.30pm


Lancaster Singers
Brahms Requiem

Denis McCaldin conductor
Martin Roscoe & Ashley Wass piano
Rebecca Caine soprano
Dean Robinson baritone
Two of England's most interesting and popular pianists, Martin Roscoe and Ashley Wass, join forces with Lancaster Singers for a programme of Mozart, Schubert and Brahms at Lancaster International Concert Series.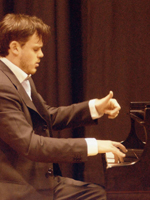 Ashley Wass
The concert which takes place in The Great Hall, Lancaster University, opens with Mozart's joyful Andante and Five Variations, while Schubert's Fantasy, full of mystery and beauty of ideas, was intended to be shared with friends. It was for the same purpose – domestic music-making – that Brahms created a slimmed-down version of his haunting Requiem. The piano accompaniment, replacing the orchestra, points up the same dark, velvety colours but reveals more clearly the work's rich textures and subtle clarity of choral writing. Inspired by the idea of reconciling the living to their loss, and the hope of the Resurrection, it's a remarkable work that audiences never seem to tire of.

The Lancaster Singers, directed by Denis McCaldin, is a 60-strong mixed-voice chamber choir based in the North West. The members are drawn from all walks of life and from a variety of musical backgrounds, this, they believe, adds to the diversity and flexibility of the group, together with a shared love of music and performance, and the pursuit of musical excellence. www.lancastersingers.org
Mozart Andante with Variations K501
Schubert Fantasy in F minor, D940
Brahms Ein deutsches Requeim (arranged for piano duet by the composer)

Meet the Artist: 6.45pm
Ticket: £14.50, £12 (£12.00, £9.50 concessions) £5.50 Young person, For tickets or further information contact the Box Office , Tel:01524 594151 (24 hour answerphone), Fax: 01524 847298, SMS Text: 07810 082832, Email: boxoffice@lancaster.ac.uk, Online booking: www.lancasterconcerts.co.uk