Radio launch for Nigerian short stories
03/11/2009 11:37:03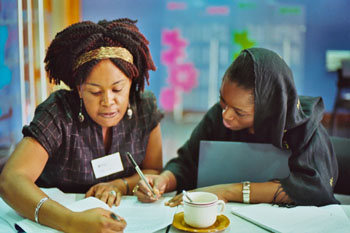 A series of short stories devised by a Lancaster University lecturer are set to be broadcast this month in Nigeria.
The stories called 'Under the Sun' were funded by the British Council in Nigeria, produced by BBC world service radio producer, Chidi Ukwu, and devised by Dr Graham Mort of the Department of English & Creative Writing.
They will be broadcast weekly on Inspiration FM (Lagos) starting on Saturday March 14th.
The nine pieces of work were developed with Nigerian writers in workshops led by Graham Mort, Mike Harris, Biyi Bandele and Simon Brett and focus on topical social and political themes.
'Under the Sun' was first piloted in Uganda in 2006 and forms part of the British Council's public diplomacy programme, designed to promote democratic change and public debate in Africa.
The radio programmes will have an interactive format with studio discussion and opportunities for the public to phone in and discuss contentious issues. They will be followed by public debates in Lagos and Kano based around a recorded broadcast and featuring an invited audience.
Dr Mort has just returned from Nigeria where he ran workshops in Lagos and Kano for teachers who will develop the project in schools with pupils aged 16 and over.
A radio-writing competition will also take place involving 28 schools and three winning stories will be produced for radio as a means of developing creative writing skills and extending topical debate with this age group.
The 'Under the Sun' broadcasts will eventually be mounted as podcasts on the British Council 'Radiophonics' website and linked to the Centre for Transcultural Writing and Research at Lancaster.
For further information please go to www.transculturalwriting.com