New pool makes a splash ahead of £20m Lancaster University sports centre opening
04/28/2011 11:38:50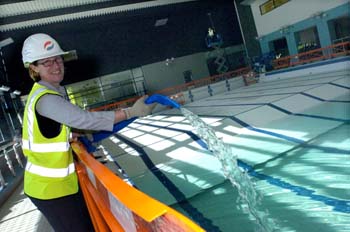 Director of Sport Kim Montgomery filling the new pool: photo courtesy of Nigel Slater
The swimming pool at Lancaster University's new £20m sports centre is filled with 187,000 gallons of water ahead of the opening of the centre this summer. Half of the visitors to the existing University Centre for Sport and Recreation are from the local community - including a thousand children a week who have swimming lessons on campus - and the new sports centre is expected to be even more popular with the public.
The 25 metre 8 lane pool took a few days to fill. It is a third larger than the University's existing pool, opened in 1980.
The Director of Sport Kim Montgomery said the new pool has several advantages.
"It will enable us to have competitions with computerised touch pad timing and the floating floor means we can vary the depth. The pool can be really shallow for children and also for school swimming lessons but full to maximum depth for water polo competitions. We can also have full galas and more activities like aqua aerobics."
Features of the new centre include:
8 court sports hall - equipped for all indoor sports activities with electronic scoring displays.

10m high climbing wall showcased in the entrance foyer

90 station gym on 2 levels

4 glass backed squash courts

A mirrored studio for dance, martial arts and fencing
The sports centre forms part of the University's ongoing investment programme in residential, academic and social facilities which has so far totalled nearly £300 million.
The building has been designed to achieve the BREEAM 'Excellent' rating, which sets the standard for best practice in sustainable design.