Alan Milburn visits his old University
12/13/2004 12:18:16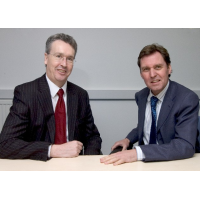 Alan Milburn, Chancellor of the Duchy of Lancaster, visited Lancaster University today to meet students and members of staff on his first official visit to the county in his new role.
Mr Milburn, a graduate of Lancaster University, met its vice-chancellor Professor Paul Wellings and pro-vice-chancellor Cary Cooper.
"This is my first official visit since I took up the post of Chancellor of the Duchy of Lancaster and I'm pleased that the University was chosen," said Mr Milburn. "I studied history here at Pendle College in 1979 and have some very fond memories of university life."
Alan Milburn was shown round the university campus and discussed its plans for expansion with Professor Wellings.
Mr Milburn returned to the Cabinet in September where he was previously Health Secretary and before that Chief Secretary to the Treasury. He is responsible to The Queen for the general administration of the Duchy of Lancaster.