World Class Art for Auction
04/01/2004 09:53:12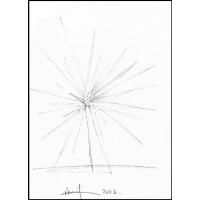 Art by top-flight artists Anthony Gormley and Andy Goldsworthy is set to go under the hammer in a silent charity auction next month.
Anthony Gormley, who transformed the Gateshead skyline with his Angel of the North, and Andy Goldsworthy, whose work recently featured in Royal Mail's Christmas Stamp Collection, both donated a piece of their work to Lancaster Art Students as part of a fund-raising drive.
The original art works – each on a star theme – were donated to Lancaster University 3rd year art students to aid them in their fundraising efforts for their Degree Show, 'Studded', June 14 at the Peter Scott Gallery. Students have also opted to donate a quarter of the funds raised to Cancer Care.
The donation from Andy Goldsworthy is a postcard sized pencil drawing, which looks like a study for Icicle Star, as featured on the First Class stamp, and is signed and dated on the front. Meanwhile Anthony Gormley OBE, who was awarded the Turner Prize in 1994 and the South Bank Prize in 1999, donated a work titled Starstate for the students to auction.
The auction will also include art by Tanzania-born Lubaina Himid, who has exhibited widely in Europe and America and has been Senior Lecturer in Fine Art at the University of Central Lancashire in Preston since 1990.
Anyone wishing to find out more information about the auction should log onto http://studded.8k.com where they can view the work and submit bids. Alternatively contact the Degree Show co-ordinator Dan Savage by email: d.savage@lancaster.ac.uk. Bids must arrive by Friday, May 14 and successful bidders will be informed on that day.