BBC Newsround at InfoLab21
03/20/2009 12:58:58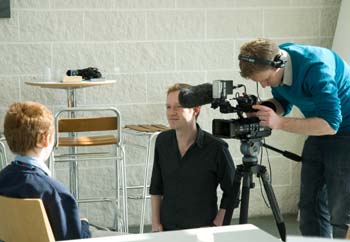 Newsround presenter Adam Fleming interviews the children at InfoLab21
A camera crew from the flagship BBC children's programme Newsround have visited InfoLab21 to film the latest developments in mobile phone technology. The programme, which has half a million viewers, is due to be broadcast on Monday, March 23, on BBC One at 5.05pm.
Presenter Adam Fleming and a cameraman interviewed PhD student Andrew Greaves and children from Carnforth High School, who were invited to InfoLab21 to test out a new projector phone.
With Dr Enrico Rukzio from the Department of Computing, Andrew Greaves has been researching mobile phones with an integrated projector, which are expected to come onto the market in the next few years.
This gives users the ability to project pictures from photos, videos, maps or games directly onto any flat surface such as a wall or table.
Andrew Greaves said: "A bigger picture has lots of advantages – you can scroll large maps for example – and it's more enjoyable being able to share what you're seeing. We expect the teenage market to use it first."
A dozen children from Carnforth High School projected images of everything from Homer Simpson to games and photos onto a white screen while chatting to presenter Adam Fleming as they were being filmed. Then they were asked them how they found the experience.
Amy-Jo Clough, who is 11, said: "I'd use it for games because you can put it anywhere so instead of all your friends crowding round a phone to see the picture, they can see it on the wall."
Science teacher Julie Rogerson, who is the assistant head at Carnforth High School, said they were thrilled to be invited.
"We're keen to embrace new technology so we're delighted to participate in this research and we've thoroughly enjoyed it."
The Newsround team were impressed with InfoLab21 and the warm welcome they had received, saying they would like to return.
To watch the interview, follow the link http://news.bbc.co.uk/cbbcnews/hi/newsid_7950000/newsid_7959000/7959006.stm