Ideas Festival 2010
04/30/2010 11:14:42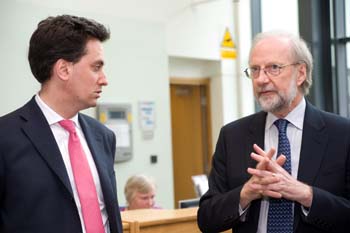 Ed Miliband with Professor Graham Harris at LEC
The Ideas Festival on April 29 has showcased some of the latest ideas and research which has earned Lancaster University an international reputation.
The Festival took place at the Lancaster Leadership Centre in LUMS, where recently appointed Professors gave presentations across the disciplines of arts, the social sciences, science and technology, health, medicine, management and leadership.
Topics included "The internet paradox; overcoming success" by Professor Laurent Mathy from the Department of Computing, "Why is river restoration so hard?" by Professor Graham Harris of LEC and "Nanotechnology meets nuclear:small solutions for big problems" by Professor Colin Boxall, LRET Chair in Nuclear Engineering.
One of the presentations – "A manifesto for soil" by Professor John Quinton from LEC – was attended by Ed Miliband, the Secretary of State for Energy and Climate Change.
He was greeted by students from the three main political parties, as well as the Green Party.
He was then given a tour around the Lancaster Environment Centre, where he was met by the co-Director of LEC Professor Graham Harris, Dr Mark Bacon, Associate Director for Enterprise and Business Partnerships, and Dr Brenda Howard from the Centre for Ecology and Hydrology.
Distinguished Professor Bill Davies, who is Director of the Centre for Sustainable Agriculture, showed Mr Miliband round some of the labs before he visited the Reach Centre Ltd and Peak Associates Environmental Consultants, which are based at LEC.
Mr Miliband said: "I'm very impressed with what I've seen here and the enthusiasm and innovation which are being applied to problems like climate change. It's fascinating stuff, especially the way in which new technologies are being commercialised through the businesses on site here."
The Shadow Universities and Skills Secretary, David Willetts, visited the University last week when he was given a guided tour of campus.