University Challenge Triumph for Lancaster
09/21/2004 14:53:37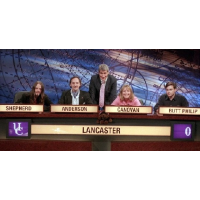 Lancaster University has emerged triumphant from a War of The Roses round of University Challenge.
In the quiz, broadcast on BBC 2 at 8.30pm, Monday, September 20, the team of four Lancaster students took on their York opponents and won 250 to 120.
The win means the team is now through to the second round, which has already been recorded and is due to be broadcast at the end of the year.
Team captain Cherry Canovan, who is about to go into her second year at Lancaster University's five-star rated Physics department, said the win had an extra edge because the opposition were from York University.
"We were really shocked to do so well. We had no expectation that it was going to be like that. I felt such a surge of relief after getting my first question right because the fear is that you wont be able to answer any," she said.
The 32-year-old prize-winning student said the fact there were two mature students on the team - herself and PhD student Alasdair Anderson - was an advantage.
"It helped when it came to questions about 1980s music and that sort of thing," she said.
Even facing the acerbic tongue of host Jeremy Paxman on set didn't faze the team too much.
Mrs Canovan, a former national newspaper reporter, said: "Being a little bit older helped, plus in my former profession you are used to people being rude. I met him outside the studio and he was actually very friendly"
Team members were: Thomas Shepherd, History and Politics student and president of Lonsdale JCR, Alasdair Anderson, PhD student, Geography, Cherry Canovan, second year Physics, Theo Butt Philip, Politics and International Relations.