NuBlue are Lancashire's Big Chip
06/06/2006 11:40:27
InfoLab21 based website design company NuBlue.co.uk is celebrating after winning the prestigious Big Chip Award for Lancashire on May 24th.

At the recent awards ceremony in Manchester's New Century Hall, NuBlue's website www.nublue.co.uk, won the Big Chip Award's Best of Lancashire category.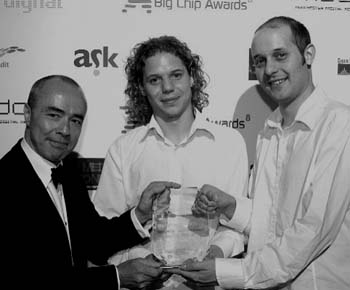 (L - R) Mr Shaun Fenson, Chair of Manchester Digital, Michael Ashworth and Thomas Ashworth, both of NuBlue
Big Chip is the largest digital media awards ceremony outside of London and is supported by major sponsors, such as Microsoft, Yahoo and Cisco Systems. The judging panel was chaired by New Media Age editor Michael Nutley and included experts from all over the North West and from elsewhere in the UK.
NuBlue.co.uk, formed just last year by brothers Thomas and Michael Ashworth, is based in Lancaster University's InfoLab21 – a North West Centre of Excellence for Information and Communication Technology.
Director of NuBlue, Thomas Ashworth, said: "We are very pleased that NuBlue has been recognised for creating websites which are well designed and meet valid web standards.
We have proved it is possible to create websites which are visually attractive, and also constructed to the highest possible standards. In the coming year we hope to help more local businesses of all sizes by giving them professional websites which provide real results."
The company provides website development, hosting and website marketing services to businesses across the UK and specialises in creating attractive, accessible websites made to (W3C) web standards.
For further information, visit www.NuBlue.co.uk or telephone 0845 004 5583.