Schools feel high voltage…again!
05/07/2008 08:43:34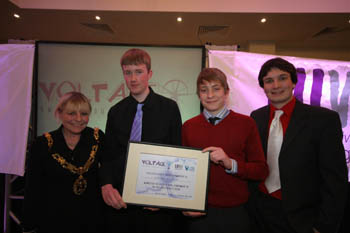 The Mayor of Lancaster Helen Helme and LUVU volunteer Barry Maydom present representatives from Morecambe High School with their prize for Exceptional Team
Teams from five schools have been running their own social enterprise for six weeks as part of Lancaster University Volunteering Unit's Voltage project. Funded by the youth volunteering charity v, the project aims to teach young people in the area about social enterprise and how they can use the business model to make a difference in their community.
The five schools involved have raised just over £2,500 for charities including the North West Air Ambulance, The Lancaster Infirmary's Childrens' Ward and Lancaster Homeless Action.
The Schools involved were Heysham High School, MorecambeHigh School, Queen Elizabeth School in Kirkby Lonsdale, Blackpool and the Fylde College and The Loyne School
To celebrate the successes of the second year of the project the Voltage University volunteers organised a spectacular Gala Event at Lancaster House Hotel on 30th April 08. The evening saw all the school teams presenting their businesses and prizes were awarded.
The Mayor of Lancaster presented Morecambe High School with the award for Exceptional Team and Pro-Vice Chancellor Amanda Chetywnd presented the award for Exemplary Presentation to The Loyne School. Blackpool and the Fylde College took away the award for Outstanding Social Enterprise presented by Enterprise Advisor Allan Kenny.
"The evening was a great celebration of the project, I was blown away by how much hard work all the school teams had put in and was extremely proud of them all. The LUVU volunteers also did an exceptional job on the project both mentoring the school teams and organising all they key events" Martha Jennings v Project Coordinator.