Lancaster Students Join Forces With Burnley FC
07/22/2008 13:14:44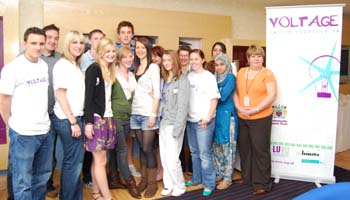 Sidonie Richardson from LUVU (second left) and Louise Spencer from Burnley FC Community Sports Trust (far right) with the teenagers
A £273,000 project awarded to Lancaster University Volunteering Unit (LUVU) is helping to promote social enterprise in East Lancashire with the help of Burnley Football Club's Community Sports Trust.
The student volunteers from LUVU are working with a hundred teenagers from Burnley Schools' Sixth Form to show them how they can make a difference to their local community.
The three year Voltage project, run by LUVU, aims to turn almost a thousand young people into "social entrepreneurs" trading for the benefit of the community in some of the most deprived parts of Lancashire.
Over the past two years Voltage has supported 10 schools from Lancaster, Blackpool and Preston to start their own social enterprises. Now thanks to funding from v, the youth volunteering organisation, Voltage is being delivered in Burnley in partnership with Burnley FC Community Sports Trust through Shooting Stars funded by "No Limits".
The student volunteers spent the day at Burnley FC's Turf Moor grounds where they ran workshops to develop the pupils' business ideas, a "Dragon's Den" style game and introduced a guest speaker from the Co-Operative College.
The Voltage Co-ordinator for LUVU Sidonie Richardson, said: "Everyone involved today has been so enthusiastic and their ideas are brilliant. This is the start of a series of activities that will see teams of young people running their own social enterprises."
The Head of the Burnley FC Community Sports Trust Louise Spencer said: "We are really pleased that so many pupils will be able to benefit from the Enterprise Haven here at Turf Moor. The Haven also looks right onto the football pitch which is an added bonus!"
One pupil said: "The day has been exciting and helpful; we really want to make a difference in the community. Our idea is to use fashion to create a social enterprise as this topic appealed to all our group".
Pupils will meet with volunteers again in the coming weeks to before presenting their business ideas to a panel of judges at a gala event.