University Honorary Fellows 2009
03/31/2009 12:42:58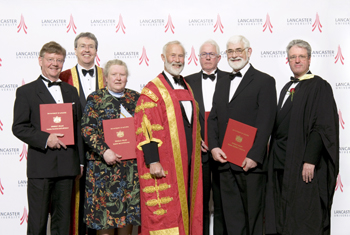 L-R Professor Malcolm McIllmurray, Professor Paul Wellings, Marion McClintock, Sir Christian Bonington, Professor George Pickett, Professor Geoffrey Leech and Oliver Westall
Lancaster University has awarded Honorary Fellowships to four people who have given distinguished service to the University and the region in fields ranging from pioneering cancer care to exploring the mysteries of matter.
This year's Honorary Fellows are world-leading Linguistics expert Professor Geoffrey Leech, former Academic Registrar Marion McClintock, distinguished Oncologist Professor Malcolm McIllmurray and ultra-low temperature physicist Professor George Pickett.
The first Honorary Fellowships were awarded by Lancaster University's Chancellor, Sir Christian Bonington CBE DL in 2006. This year the ceremony was held on 26th March at the Lancaster Leadership Centre.
Speaking at the award ceremony Sir Christian Bonington said: "A university is a very diverse organisation. It is led by teaching and research but these activities can only flourish if they take place in a healthy, vibrant and lively community.
"These Fellows are exceptional individuals who set particularly fine examples to the rest of us. They have each made a contribution of great distinction to the University or its region and we take great pride in being able to make this award."
Professor Geoffrey Leech, FBA, is one of the most distinguished students of linguistics in the world.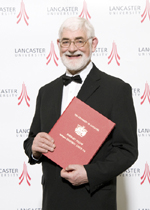 Professor Geoffrey Leech, FBA
His texts are respected around the globe and he has made pioneering contributions across many aspects of this field of study, including work with colleagues in computer sciences to create new language analysis techniques. He has taken a leading role in the development of Lancaster's outstanding linguistics department since its creation in 1974, becoming a Research Professor in 1996 and Emeritus Professor in 2002. He has received many academic honours and prizes including a Fellowship of the British Academy.
Marion McClintock, MBE, has played a central role in the affairs of the University over nearly forty years.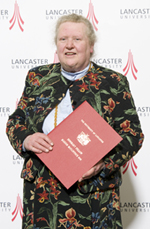 Marion McClintock, MBE
She has become a unique source of advice and guidance based on this long experience and her absolute dedication to the University. Her clear view of Lancaster's special character, especially as shaped by its founders, has nourished her authoritative contribution to University life. She has made special contributions to the Centre for North West Regional Studies and the Ruskin Library and wrote the first history of the University. Since retiring as Academic Registrar in 2006 she continues to build the University's archive as a resource for students of higher education.
Professor Malcolm McIllmurray, FRCP, is a distinguished oncologist and clinician.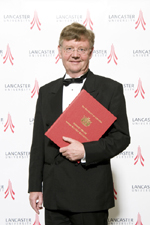 Professor Malcolm McIllmurray, FRCP
Over the last twenty-five years he has pioneered a holistic approach to the care of cancer patients in our region. This method, which combines the best that medical science has to offer with an understanding of the importance of care for the whole person, has led the way in transforming national approaches to medical care of this kind. He is also the founder chairman of CancerCare, a local charity dedicated to the support of people with cancer, their families and their carers, and those bereaved by cancer.
As a result of his work, local people have had available a very special service based on treatment units at Lancaster and Kendal, in St John's Hospice, Lancaster and through the support of CancerCare. His work has set high standards and the University is proud to have such an innovative clinician as a member of its faculty.
Professor George Pickett, FRS,is among the most distinguished ultra-low temperature physicists in the world, a professional achievement recognised by his election as a Fellow of the Royal Society and a Foreign Member of the Russian Academy of Sciences.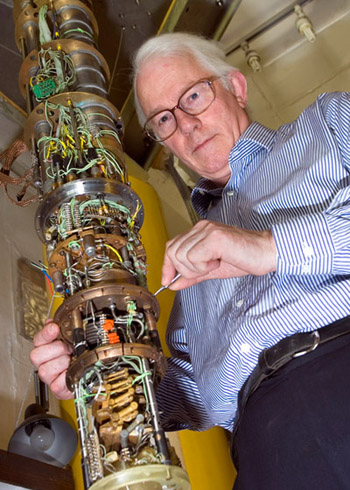 Professor George Pickett, FRS
Over several decades he has provided leadership to the powerful research group focused on this branch of Physics at Lancaster - whose work has been recognised as world-class in recent Research Assessment exercises. Alongside this outstanding research work exploring the fundamental properties of matter, Professor Pickett has worked to improve public and government understanding of science as well as engaging with younger scientists. He has contributed to important international collaborations in science in Europe and Russia and has acted as scientific chairman of INTAS, the international organization for channelling EU research funds to the former Soviet Union.
Previous Honorary Fellows are: Sir Christopher Audland KCMG DL; Professor Eric Evans; Ian Hare; Baroness Ruth Henig CBE DL; Claire Hensman; Professor Terry Mansfield FRS; Professor Denis McCaldin; Lady Mary Mumford DCVO; Malcolm Weisman OBE; Professor John Whittaker.