"Incredible" Autumn Season At Nuffield Theatre
09/30/2008 13:03:31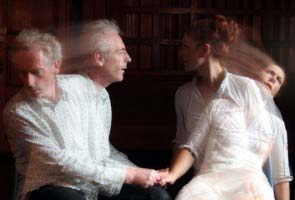 "Mind Out"
The new autumn season at the Nuffield Theatre opens with a UK premiere by one of the most influential theatre companies of the past 30 years.
"Mind Out" is the intriguing new work from Station House Opera, in the first production of what Nuffield Director Matt Fenton calls "an incredible season of new work."
He said: "Many of the most important experimental theatre and performance companies the UK has produced in a generation are crammed into an 8 week period in a programme that any major city could be proud of. See them all for an incredible overview of 21st century theatre, performance and live art."
Asking the impossible question of what it is like to be mindless, the performers of "Mind Out"' are split in two. Each acts as the mind of another, giving instructions for action, while their own body responds to the control of another. With these constantly shifting relationships, it becomes difficult to discern who is in control.
Co-operation, anarchy, resistance and identity are all explored in this performance laced with cruel humour as the performers subject each other to their wicked whims.
'One of the most important performance groups anywhere.' – Performance Magazine
'Psychologically speaking, to watch Station House Opera is to sit on the edge of one's seat'. – Artscribe
Other cutting-edge productions this season include those by Forced Entertainment, Lone Twin, Gob (sic) Squad, Talking Birds and Reckless Sleepers alongside new works from up-and-coming names Rajni Shah and 1927.
The Nuffield Theatre is part of the Lancaster Institute for the Contemporary Arts (LICA) which embraces Lancaster's teaching and research activities in Art, Design, Music, Music Technology and Theatre Studies.
"Mind Out" by Station House Opera
8pm Wednesday 8th & Thursday 9th October
£10/£7 concessions
www.nuffieldtheatre.com 01524 594151