Praise for the Graduate Academy from its first intake
02/28/2007 16:14:05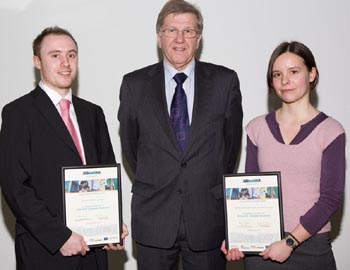 from left:Rob Jones, Steve Riches Director of the KBC at InfoLab21 and Vanessa Gomes
The first graduates to join InfoLab21's Graduate Academy (IGA) have left after being presented with certificates at a ceremony at InfoLab21. The IGA - the only one in the North West for ICT graduates – provides free ICT support for eligible technology led businesses.
Rob Jones and Vanessa Gomes were congratulated by the Vice-Chancellor Prof Paul Wellings.
Vanessa, who specialises in networking systems, has a degree in Telecommunication and Computer Science Engineering from ISCTE University in Lisbon. She previously worked for a leading Portuguese energy supplier before joining InfoLab21 on a six month placement through the European Commission's Leonardo da Vinci scheme.
She said: "It's been a fantastic experience and I've gained so much more confidence. Working for the Graduate Academy has taught me so much and I'm only sorry it was just six months but I can go back to Portugal with a great CV."
Rob Jones, who graduated from Lancaster with a degree in IT and Media Communications, spent over a year at the IGA where he specialised in web design and completed a series of projects for local businesses. He was later recruited by an IT firm in Preston.
He said the IGA had successfully bridged the gap between student life and the world of business.
"It's a nice transition between university and the world outside and I feel a lot more confident as a result. The most beneficial part of it was conducting meetings and dealing with managing directors which gave me experience of how different companies operate."

Steve Riches, Director of the InfoLab21 Knowledge Business Centre, said: "I am pleased with the way the Graduate Academy is progressing, providing graduates with industry experience and raising the capability of digital industries in the region. Rob and Vanessa have demonstrated their skills and capabilities and their experience at the IGA will stand them in good stead in their future careers."

The IGA includes a team of graduates with Information Technology related degrees. Working as consultants, the graduates provide solutions and support a range of services from web based solutions through to IT strategy development and rectifying security issues. The graduates are supported by a Project Manager and Technical Officers as well as being provided with additional training to further develop their skills.
Amanda Ross, Marketing Executive at the KBC, said: "The Academy gives them experience of working with companies and transferring their expertise whilst developing their technical and consultancy skills in a supportive environment."
The InfoLab21 Graduate Academy is part-financed by the European Union, the European Regional Development Fund & the North West Regional Action Plan Partnership.