Making Our Mark: Visual Imprints on the Prison Landscape
08/09/2007 15:22:29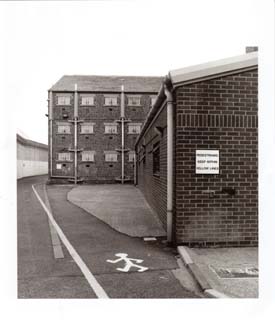 Michael Jacobson-Hardy, silver gelatin print, May 2006 © the artist
PETER SCOTT GALLERY, LANCASTER UNIVERSITY
7 - 19 September 2007
An exhibition of photographs by Michael Jacobson-Hardy (USA) about prison environments in the north of England, taken as part of a two-year AHRC-funded research project carried out by Anita Wilson (Literacy Research Centre) and Lenny Baer (Geography) from Lancaster University.
While visual representations of prison conventionally portray an austere and dehumanised world, the photographs in this exhibition give layers of meaning to everyday prison life. Some images show ways of retaining links to outside worlds, while others illustrate the need to inscribe the personal onto an impersonal living space. Overall, they reveal the wish of incarcerated young men to remain people, not just prisoners.
Photographer Michael Jacobson-Hardy has been combining his interests in photography and social justice since 1987. In addition to numerous exhibitions of his project-based photographs focused on social, class, and race issues in the U.S., he has authored a number of books including, Beyond the Razor Wire: Portrait of an American Prison System (1999).
Shown alongside Jacobson-Hardy's photographs is 'Don't talk to me about prison – in here I'm an artist' – an exhibition of artworks, including 'Postcards from Prison', produced by young men in prison.
This project has been funded by the Arts and Humanities Research Council UK.
The Peter Scott Gallery is located in the Great Hall Complex on Lancaster University campus. Admission is free of charge.
Gallery open: 7 - 19 September 2007, Mon - Sat 11am-4pm & late Thurs 11am -9pm Tel: 01524 593057 www.peterscottgallery.com