First Class Honours for Maths Students
07/09/2003 13:18:48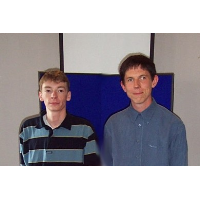 Lancaster University Mathematics students Andrew McCafferty and James Grime have both achieved excellent first-class honours results after completing a four-year MSci Mathematics degree.
Twenty-two year old Andrew (Fylde College) lives in Lancaster and after being educated at home he took A levels at Lancaster and Morecambe College prior to attending University. Andrew is continuing his studies at St.Martin's College after graduation as he has enrolled on a PGCE course which he hopes will lead onto becoming a teacher of Secondary Mathematics.
Also twenty-two, James (Cartmel College), lives in Morecambe and attended Ripley St.Thomas Secondary School before deciding to study at Lancaster. James is also going on to further study and has decided to do a PhD in Mathematics at the University of York.
Andrew and James will receive their degrees from HRH Princess Alexandra at an official Degree Ceremony next week.