Academic Turns Stand Up Comedian
05/23/2008 09:33:39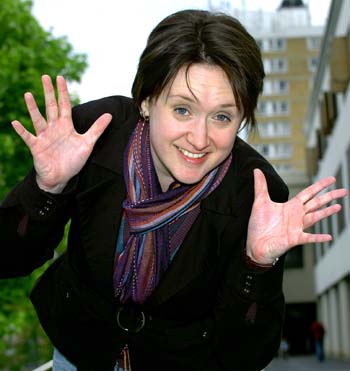 Dr Lynne Crook:photo courtesy of the Lancaster and Morecambe Citizen
English lecturer Dr Lynne Crook has gone from doing a PhD on comedy to becoming a comedian on stage. This weekend she will be competing for the title of the North's best new stand-up comedian at a competition at Muncaster Castle in Cumbria.
She said: "It's an addiction and there's a frightening adrenaline rush from performing on stage. I've always enjoyed comedy but performing it gives a totally different perspective from writing about it."
Dr Crook only began doing stand-up in March after taking a six week course with the Liverpool Comedy Trust and has only performed in public a few times - at the Rawhide Club in Liverpool and at the Yorkshire House's Spotlight Club in Lancaster.
The judge of the "Cabaret at the Castle" contest is Peter Frost Pennington, who said: "We had a number of excellent entries from some very funny new stand-up comedians – but Lynne had us laughing out loud."
Her act is anecdotal rather than gag-based, and although she plans what she is going to say, she does not write anything down.
"I rehearse it myself but the only way to know if it works is to get up on stage and do it in front of an audience. I was never the comic at school but I've always loved comedy so I thought why not give it a go? But I never thought I'd get this far."
Dr Crook has always been interested in comedy, completing her PhD on 'Bordering on Laughter: the Uses and Abuses of Comedy in Novels from Northern Ireland and the Republic of Ireland (1988- present)'. This focused on the evolving uses of comedy by authors from Northern Ireland and the Republic of Ireland over the past twenty years, relating these trends to distinct socio-political changes in the two areas.
Currently working as an hourly lecturer, Dr Crook has no plans to switch careers so far, although she has more gigs lined up in Newcastle, Manchester and Liverpool.