Aled Jones from BBC TV's Songs of Praise visits campus
11/08/2006 09:43:20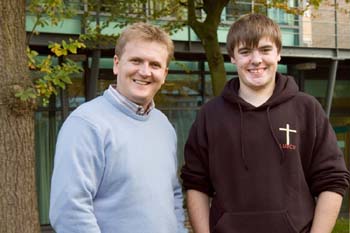 Aled Jones with Aled Seago
Student life at Lancaster university is to feature on BBC TV after a film crew from "Songs of Praise" visited campus.

They were here to film student Aled Seago for an edition of "Songs of Praise" on December 3rd on the theme of "Coming Home For Christmas".

The crew spent the day filming Aled on campus, where he attended a lecture in the George Fox building, had lunch with friends in the Chaplaincy Centre and was interviewed in his room at Bowland College by the show's presenter Aled Jones.

The first year undergraduate, who is taking a degree in English Literature and Creative Writing, said he could not believe he had been chosen to take part in the programme, which has a Welsh theme. Aled Seago is from Ruthin in Wales where he has already been filmed at home with his family and in the congregation of St Asaph's Cathedral.


He said: "The BBC contacted me through my vicar but I had no idea it was for "Songs of Praise". It's been a bit surreal having a film crew following me around but my friends have played along and joined in and it's been exciting."

The show's presenter, Aled Jones, said he was pleased to be filming in the North West.

"My wife Claire is from Poulton so I'm up here regularly and it's great. It's always special doing a show before Christmas and this is one of our four Advent programmes. We're looking at people from the Vale of Clwyd and Aled Seago is one of those people who is coming home for Christmas, which is our theme because it's the time of year when families are reunited."

Aled Seago said he was looking forward to returning home for Christmas.

"It was lonely at first being away from home although being away from my family means you appreciate them more. This Christmas is going to be great because I'll be going back to Wales to see all my friends who'll return from different cities and we can all get together."

He currently attends Moorlands Evangelical Church in Lancaster and is a member of Lancaster University's Christian Union.

"My faith has got stronger and stronger and I've found a welcome at the Christian Union here where I've forged what I'm sure will be a network of lifelong friends."