Boost for Pioneering Cancer Research
04/23/2004 15:39:25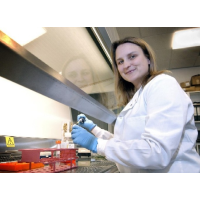 A new cancer researcher has taken up post at Lancaster University thanks to a £265,000 charity donation.
The North West Cancer Research Fund award is one of the largest ever to be granted in the history of the 56-year-old charity.
Dr Sarah Allinson, 32, has joined the Lancaster cancer research team as part of a five-year programme investigating both the causes of cancer and the effects of cancer treatments such as chemotherapy and radiation therapy.
Her research will look into how human cells repair damage that occurs to DNA. This damage can happen naturally as a result of the body's normal metabolic processes or through exposure to carcinogens in the environment. If the damage is not repaired quickly and accurately the genetic information held within the DNA may become lost or degraded and this can eventually lead to cancer.
Understanding the way in which cells respond to such damage therefore holds vital clues to better understanding how cancer occurs in the body and how the human body responds to cancer treatment.
Dr Allinson, who has a degree from Edinburgh University and a PhD in bio-organic chemistry from Southampton University, said DNA repair was a key area of cancer research.
She said: "By understanding how cells are able to repair DNA damage we can figure out how they can protect themselves from harmful effects of exposure to carcinogens and why this process sometimes fails. In addition, since this type of damage can also be caused by certain cancer treatments, we can get a better understanding of why patients vary in how they respond to such treatments."
Lancaster University Professor of Cancer Biology Trevor McMillan said: "Sarah is an important appointment for Lancaster as she enhances our already strong programme of cancer research and builds on our relationship with the North West Cancer Research Fund. An examination of the causation of cancer fits well into our major initiatives in biology and the environment and we are very grateful to the fund raisers for NWCRF who work tremendously hard to support research in the North West."
John Lewys-Lloyd, Chairman of the North West Cancer Research Fund, said: "We have been funding research in Lancaster University for a number of years. We see this award to appoint, for 5 years, a full time dedicated researcher, as building on the work which has already taken place. It is one of the largest awards ever in the Fund's history. I am especially pleased for our many volunteer fund raisers in Lancashire and Cumbria without whose efforts the money to finance this position would not exist."
The North West Cancer Research Fund is an independent regional charity, which has been funding pioneering research in Lancaster University for ten years. It makes £750,000 available every year for fundamental research into the causes of cancer.
Virtually all of the money is raised through voluntary donations and efforts. Throughout its 56-year history, more than 90 pence in every pound raised has consistently been spent directly on research. A number of the North West Cancer Research Fund's voluntary committees are based in Lancashire.