Bright Spark wins Engineering Prize
12/01/2009 10:38:15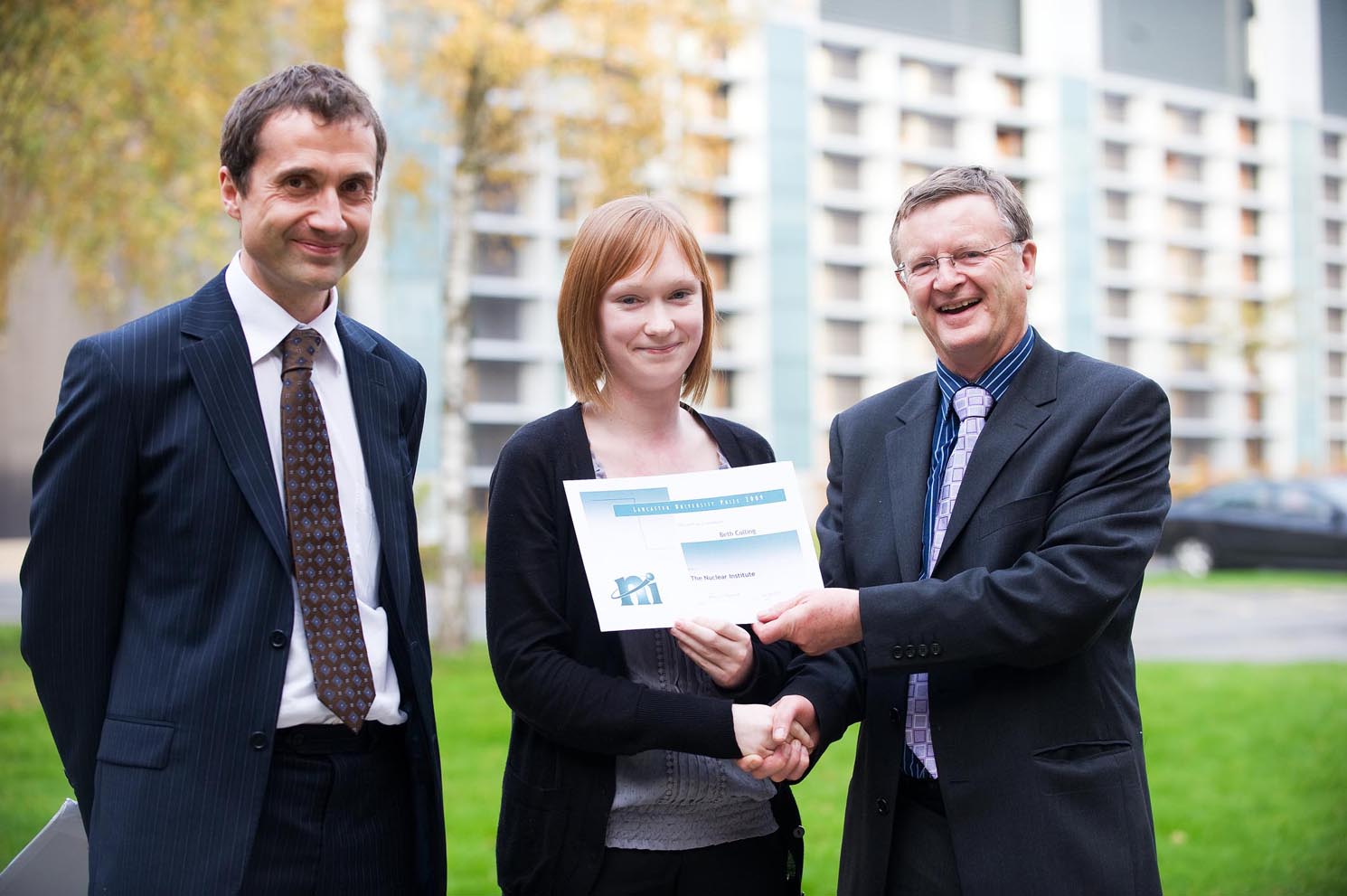 L - R Professor Malcolm Joyce, Beth Colling and Michael Grave
A promising young engineer has been singled out for an award by the Nuclear Institute.
Lancaster University Engineering student Beth Colling was awarded a £250 prize by The Nuclear Institute's Education and Training Committee for her outstanding performance in the Engineering Department's MEng in Nuclear Engineering.
Beth, 21, is from Heysham and is a former student at Ripley St Thomas C of E High School, Lancaster. As a final year student she combines her studies with part-time work in Morecambe and bringing up a young child.
She was nominated for the award by Engineering Head of Department Professor Malcolm Joyce after she achieved the highest mark in her year group for her 3rd year project supervised by Dr Stephen Monk.
Beth said: "I'm pleased to have won this award. In the future I hope to be a researcher working in the field of Nuclear Engineering. I first became interested in Nuclear Engineering when I was studying for my Physics A-level. Plus, growing up in this area we were often at Sellafield Visitor Centre when we were young which sparked my interest. I chose to come to Lancaster University because it is the only place that offers this type of course in Nuclear Engineering."
The Chair of the Nuclear Institute's Education and Training Committee Mr Michael Grave presented Beth with her award.
He said: "We are delighted to be giving this award to Beth as part of our drive to encourage and support the training and education of the next generation of Nuclear Engineers. We are facing a significant skills gap in this sector and we need to inspire more young people to consider a future career in his area. We wish Beth every success with her future career."