£9.2m India-Uk Research into Next Generation Networks
02/02/2009 14:12:42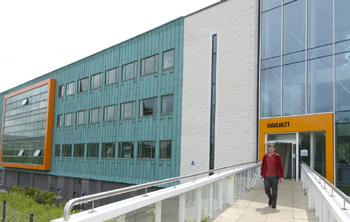 InfoLab21
Lancaster University is a partner in a new UK-India research programme which will boost the digital revolution.
Professor David Hutchison, Dr Andreas Mauthe and Dr Dimitrios Pezaros of Lancaster University's InfoLab21 are part of a team of UK and Indian scientists and engineers undertaking a £9.2m research project to develop Next Generation Networks which are vital to pushing forward the digital economy.
This collaboration between the UK and Indian Governments, universitiesand ICT specialists in both countries will work to develop telecom networks, ICT services and applications in the two countries, along with work on wireless sensornetworks, which could aid healthcare and early warning weather systems in rural areas.
The grant money includes £5m jointly from the Research Councils UK (RCUK) Digital Economy Programme, led by the Engineering and Physical Sciences Research Council (EPSRC), and the Indian Government's Department of Science and Technology (DST). This is matched by a further contribution of over £4m from a consortium of the India-UK Advanced Technology Centre's academic and industrial partners.
The wider IU-ATC consortium currently comprises nine UK universities, six Indian research Institutes, seven industry partners in both countries including BT, InfoSys, Wipro, Sasken, Tejas and Midas and a number of small business partners.
Professor Hutchison, who is also Director of InfoLab21, said: "This work is important because it not only aims to develop leading edge science and technology, but also makes an important contribution to the development of systems that will help people and national economies.Lancaster will contribute specifically in the areas of network resilience and security which are key aspects of the Quality of Service we need to provide to the end-users of these networks."