Think pink for Valentine's Day
02/09/2007 12:40:14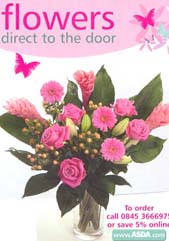 Pink flowers for Valentine's Day
Valentine's Day will see an explosion of pink on the high street, the colour associated with romance by over half the people questioned in a survey.
Dr Veronika Koller from Lancaster University said: "As a combination of red and white, pink can be seen as a toned-down version of fiery red, the colour of passion. Pink emphasises gentleness and softness."
The survey looked at how people interpret the colour pink and how it is used in the media.
Three quarters of people associate pink with femininity, 55 per cent with romance and 50 per cent with love.
Dr Koller said: "If you are buying hearts or flowers for Valentine's Day, chances are they will be red or its toned-down cousin, pink, because these convey the meaning of love and romance to most people."
Pink also has this meaning in other countries. In Italy and Spain, romantic fiction is even called "pink fiction", while an extra marital affair in Italy which gets in the papers is a "pink scandal".
Dr Koller says this association with sexuality dates back to the invention of shocking pink, created by the fashion designer Elsa Schiarapelli in 1936. Her perfume Shocking Pink came in a pink box shaped like the body of film star Mae West.
She said: "It comes as no surprise that recent products like the pink "porn star" edition of the Nokia 3315 mobile phone used pink to combine femininity and sexuality."
But she says that alongside the traditional associations with romance and love, pink has now come to signify fun, confidence and independence in women.
"Pink is used to communicate fun and independence, financial and professional power without accommodating to masculine norms, as well as femininity and self-confidence.
"We can see this in the advertisement for Sheila's Wheels which aims to sell car insurance to women through very feminine models dressed in pink in a pink car."
This re-invention of the meaning of pink has filtered through to men, who now feel confident enough to wear a light pink shirt without feeling threatened.
Whether the shade is fuchsia, magenta, coral pink, lavender pink, cherry blossom pink, Persian rose, salmon pink or shocking pink, Dr Koller says it contains more meanings than any other colour.
She said: "As an advertisement for the Smart car puts it, "Pink isn't just a colour. It's a state of mind".