Performing Words Public Talk
03/23/2004 09:08:27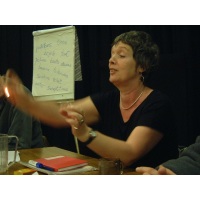 The Department of Theatre Studies, Women's Writing for Performance is to host a public talk given by Gilly Adams and Geddy Aniksdal, on Tuesday March 30 at 6pm in the Nuffield Theatre.
Gilly Adams is a director, workshop leader and editor who specialises in working with writers. She was the Artistic Director of the new writing company, Made in Wales, for more than a decade and is currently the director of BBC Wales' Writers' Unit and a radio drama producer. She is also an associate artist of the celebratory arts company Welfare State International.
Geddy Aniksdal has been with Grenland Friteater, Norway's independent theatre company, since 1981 and has participated as an actor in all the theatre's main productions. She also works as a director and pedagogue and has given numerous workshops on actor training. She has toured her solo performance Blue is the Smoke of War internationally.
Gilly and Geddy have both been involved with the Magdalena Project, an international network investigating the role of women in contemporary theatre, since its inception in 1986. They have developed their workshop Performing Words through the Magdalena and have worked together on many occasions. In 2003 they toured with Performing Words to the Philippines, Singapore and Magdalena Australia in Brisbane.
This talk is part of a three-year practice-as-research investigation into women's writing for performance lead by Elaine Aston and Gerry Harris. During the week Gilly and Geddy are running their five-day workshop Performing Words. Over the three years, a series of three and five day workshops will be held at Lancaster University, with a final symposium taking place in 2006. A website is currently in development, and a second Performing Words event will take place during 2005.